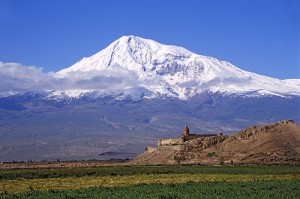 The most important news for Tuesday, April 27th, 2010….
A team of Chinese and Turkish explorers claim that they have found Noah's Ark 4000 meters up on Mount Ararat in eastern Turkey – and that they have the wooden specimens to prove it.
Jane's Defense Weekly is reporting that China has opened up a brand new missile plant in Iran.
It is being reported that Israel has pledged to the Obama administration not to conduct a military strike against Iran in 2010.
Meanwhile, an Iranian nuclear scientist has broken ranks with the Islamic regime and has requested political asylum in Israel.
Venezuelan President Hugo Chavez, is warning that war could break out if Colombia's ex-defense chief Juan Manuel Santos wins the presidency.
Robotic submersibles are being used to try to stop oil leaking into the Gulf of Mexico from a damaged well almost a mile below the surface.
Voting 57-41, Senate Democrats could not muster the 60 votes needed to overturn the threat of a Republican filibuster and begin formal debate on the "Wall Street reform bill".
The Democratic co-chairman of Barack Obama's debt commission, Erskine Bowles, says that tax hikes for Americans are "on the table" despite Obama's election campaign promise that no individual earning under $200,000 dollars a year would be hit with any tax increases.
Top German politicians are saying that Greece should be forced to quit the Euro.
Illinois recently cut benefits and raised retirement ages for public employees in order to cover a $78 billion shortfall in its public pension fund.
Legislation passed by the Florida Senate would wrest a key concession from state workers, calling for the employees to pay a fraction of their paychecks into the retirement system for the first time in about 30 years.
It turns out that the biggest U.S. banks have "turned the corner" and are now doing just fine.
Some really hard questions are being asked about the mortgage trading strategy at Goldman Sachs during late 2006 and throughout 2007.
Executives at Goldman Sachs were bragging about how much money they were making during the worst moments of the housing crash.
Are the "Big Six" U.S. investment banks "shorting the American Dream"?
In the latest quarterly survey by the National Association for Business Economics, a majority of respondents felt that the economic stimulus bill had no impact on the American economy.
The top 1% of Americans control roughly 40% of the nation's wealth.
It turns out that senior U.S. government officials spent large amounts of time viewing pornographic material on government computers when they should have been regulating Wall Street during the worst fiscal crisis since the 1930s.
Proposals to establish a global tax on banks and charge them for the cost of government bailouts divided representatives of the Group of 20 countries during their recently concluded summit meeting.
A small but growing number of overseas Americans are taking the weighty step of actually renouncing their citizenship.
According to Brad Therrell, director of the National Newborn Screening & Genetics Resource Center, the U.S. government has mandated that all newborns be evaluated genetically to see whether or not they might be predisposed to developing a genetic disease and most parents are not informed about the tests.
A genetic achilles heel that helps viruses invade the body and trigger cancer has been uncovered by scientists.
Scientists are trying to figure out why sperm levels in men in industrialized nations are falling so rapidly.
A family in Australia is in mourning after their toddler unexpectedly died less than 12 hours after receiving a seasonal flu vaccination.
That water that is used to irrigate much of America's Great Plains comes from the Ogallala Aquifer – a massive underground lake that stretches from southern South Dakota through northern Texas, covering about 174,000 square miles. It turns out that this aquifer is being drained at alarming rates, and some places have already seen what happens when local levels drop below the point where water can no longer be pumped.
The story surrounding the plane crash that killed Poland's president and many of Poland's other top officials keeps getting stranger and stranger.
A new national poll has found that only about one in five American parents would consider spanking their children.
According to the Council of Europe, Britian is now one of only a handful of countries holding out against a complete ban on spanking.
Officials at Eastern Michigan University expelled from a counseling program a Christian student who refused to argue in support of the homosexual lifestyle.
What are we going to do if all of the honeybees in the United States continue to die at a frightening pace?
Somewhere above earth right now is America's latest spaceship, a 30 foot craft so classified that the Pentagon will not divulge its mission nor how much it cost to build.
Lastly, researchers say that teenagers on social networking sites such as Facebook are creating a secret language to keep adults from knowing what they are up to.