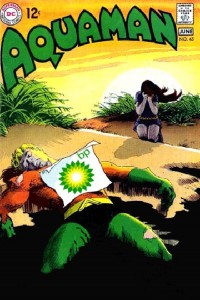 The most important news for Tuesday, June 22nd, 2010….
CBS News is reporting that the oil well spewing in the Gulf of Mexico could contain as much as 1 billion barrels of oil and could keep flowing for more than a decade.
&nbsp
An increasing number of frustrated Gulf coast residents have decided to take it upon themselves to stop the oil that is headed towards their homes and businesses.
There are increasing concerns that oil spill containment efforts are actually putting more stress and more pressure on the damaged well.
Are fissures and cracks appearing on the ocean floor around the damaged wellhead?
Scientists say that the massive amount of methane being released by the oil spill is a serious threat to all sea creatures living in the Gulf.
Many are now openly wondering why Barack Obama turned down offers of help from other nations to help deal with the oil leak in the Gulf of Mexico.
Sarah Palin and the Obama administration are exchanging barbs over the BP oil spill crisis.
MSNBC host Mika Brzezinski recently admitted on air that she was repeating White House talking points she had been advised to include in the channel's news programming regarding the ongoing BP oil spill in the Gulf of Mexico.
Will North America be facing years of toxic rain because of the poisonous chemical dispersants BP is using to control the Gulf of Mexico oil spill?
BP CEO Tony Hayward is set for a massive 10.8 million pound ($16 million) payout if he chooses to step down.
It is being reported that three days after the Deepwater Horizon platform sank to the floor of the Gulf of Mexico the Dutch government called Obama and offered to loan BP ships outfitted with oil-skimming booms, and a plan to quickly build sand barriers to protect the marshlands.
BP has insisted all along that if everything else fails, the "relief well" being drilled with solve the problem.  Well, it turns out that the relief well is not guaranteed to work either.
National Geographic is reporting that the oil leak in the Gulf could end up lasting "for years".
An oil spill off the Egyptian Red Sea coast of Hurghada threatening to damage marine life in the area has prompted environmental agencies to demand tighter regulation of offshore oil platforms.
Representatives from Hamas, Hezbollah and Iran are planning a high level conference to discuss "a possible Israeli strike in Iran or southern Lebanon".
Another blockade-busting ship with a team of all-female activists could be bound for Gaza within a few days after Lebanese authorities granted permission Monday for it to sail first to Cyprus.
U.S. Defense Secretary Robert Gates is refusing to address the notion of having to contain a nuclear armed Iran, saying that U.S. efforts were aimed at preventing Iran from acquiring atomic weapons.
The U.S. is warning Pakistan that a recently signed gas pipeline deal with Iran could run afoul of new sanctions being finalized in Congress.
China has angered the United States with plans to build two nuclear reactors in Pakistan, despite fears over the country's political stability.
South Korea's Science Ministry said on Monday that abnormal radiation was detected near the inter-Korean border days after North Korea claimed last month to have achieved a nuclear technology breakthrough.
Russian President Dmitry Medvedev says that Russia is very concerned over the currency fluctuation rate of the euro and hopes that the European currency will stabilize soon.
It is being reported that Germany and France are examining ways of creating a "two-tier" euro system to separate stronger northern European countries from weaker southern states.
The state government of California is projected to have a budget deficit of at least 19 billion dollars this year, and next year the budget gap is projected to grow to 37 billion dollars.
Many U.S. states are acknowledging this year that they have promised pensions that they cannot afford and are cutting benefits to appease taxpayers and attack budget deficits.
Obama's labor chief says that illegal aliens have a right to fair wages.
According to newly disclosed emails, Rahm Emanuel, then a congressman in Illinois, apparently attempted to trade favors with embattled Illinois Governor Rod Blagojevich while he was in office.
It is being reported that Rahm Emanuel, the White House chief of staff, is expected to leave his job later this year after growing tired of the "idealism" of Barack Obama's inner circle.
Arizona Governor Jan Brewer has refused to flinch after Obama administration officials confirmed that they plan to file a lawsuit challenging the state's anti-illegal immigration law.
The Democrats are spending tens of millions of dollars to lure young voters back to the polls for the upcoming mid-term elections.
Police tactical teams have been practicing with plastic bullets and tear gas at a Canadian military base near Toronto in case protesters at the G8 and G20 summits turn violent.
Experts are warning that NATO governments and the public must wake up to the threat of cyberattacks, which could paralyze a nation far more easily than conventional warfare.
It is being reported that up to 77 million Bangladeshis have been exposed to toxic levels of arsenic from contaminated drinking water.
A dangerous fungus that attacks wheat and barley crops has popped up in eastern Idaho.
The first hurricane of the 2010 Pacific season formed in the eastern Pacific Ocean near Mexico on Sunday but was headed away from land.
A tornado plowed through downtown Billings, Montana on Sunday afternoon.
One organization in the U.K. wants to dump thousands of tons of iron into the sea in an attempt to cut global warming by sucking carbon dioxide from the atmosphere.
New research has found that just half an hour spent on your cell phone every day could raise your risk of developing brain cancer by as much as 40 percent.
Psychotropic drug abuse in foster care is costing the government billions of dollars.
Russian scientists have developed a brain-computer interface.
Experts including three Nobel laureates and Richard Dawkins, the prominent atheist, are calling on the U.K. government to make teaching of the theory of evolution a compulsory part of the curriculum.
A Miami Beach chihuahua may end up inheriting millions of dollars.
Lastly, a French prisoner recently killed his cellmate then sliced open his chest to remove and eat his heart, but ate his lung instead.
&nbsp