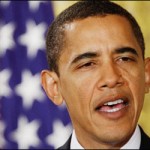 The most important news for Thursday, June 4th, 2009…..
Barack Obama is defending Iran's "right" to "peaceful" nuclear energy.  The truth is that Iran probably does plan to use nuclear power peacefully – right after they nuke all of their enemies into oblivion.
Barack Obama says that he is receptive to Congressional proposals that would require all Americans to have health insurance and that would oblige employers to share in the cost.
Obama quoted from the Koran during his much anticipated speech to the Muslim world in Cairo, Egypt.
Obama was very clear about how he feels about a Palestinian state during his speech: "Israelis must acknowledge that just as Israel's right to exist cannot be denied, neither can Palestine's."
Venezuela's President Hugo Chavez said on Tuesday that Barack Obama may be even more leftist than he is.
On a recent show, Glenn Beck publicly sold out gun owners, militia members and other members of the far right on the air.
New Hampshire's governor has signed a bill making that state the sixth to legalize gay marriage.
The Episcopal Church has appointed a panel of theologians to study same-sex relationships in the life of the church.
The new coalition commander is warning that the war against insurgents in Afghanistan could be lost if forces do not reduce the number of civilians that they kill.
A new poll reveals that over half of all Americans feel that using torture is okay if it is used to stop terrorism.  What has happened to America?
A very well preserved skeleton of a mammoth has been discovered near an archaeological site in eastern Serbia.
North Korea warns that if they are attacked, they will turn South Korea's capitol, Seoul, into "a sea of fire" and will bombard Japan.  So what will the U.S. do?
Harvard University has created an endowed professorship in lesbian, gay, bisexual and transgender studies, the first of its kind in the United States.
Mysterious formations of "building size" unidentified objects have been seen traveling across the skies of the U.K. and Holland.  What in the world are those things?
The rising interest on national debts is making things very difficult for countries such as the United States, the U.K. and Germany as they attempt to recover financially.
Lastly, the media coverage of the recent murder of an Army recruiter was MUCH different than the media coverage of the recent murder of a famous abortionist.