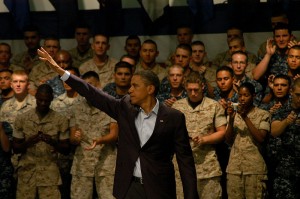 The latest headlines from The Most Important News….
The Obama administration is strongly defending its handling of the Libyan crisis, drawing a clear line between military and political objectives while dismissing criticism that it has failed to adequately consult with members of Congress.
Representatives of Moammar Gadhafi's government and the Libyan opposition will be among those attending an African Union meeting in Addis Ababa, Ethiopia, on Friday, U.N. Secretary-General Ban Ki-moon said Thursday.
NATO has reached an agreement to take over the no-fly zone in Libya from the United States "in a couple of days" NATO's secretary general said Thursday.
Sixty percent of Americans support the U.S. and allied military action in Libya to impose a no-fly zone to protect civilians from forces loyal to Muammar Gaddafi, a Reuters/Ipsos poll released on Thursday found.
A Gallup poll conducted Monday finds more Americans approving than disapproving of the military action against Libya by the United States and other countries.
Yemeni President Ali Abdullah Saleh and the country's top general are hashing out a political settlement in which both men would resign from their positions within days in favor of a civilian-led transitional government, according to three people familiar with the situation.
Human rights activists said at least 15 people were killed on Wednesday in the volatile Syrian city of Daraa, hub of a week of anti-regime protests, as anger reportedly spread to neighboring towns.
Radioactive yellow rain that fell in Tokyo and surrounding areas last night caused panic amongst Japanese citizens and prompted a flood of phone calls to Japan's Meteorological Agency this morning, with people concerned that they were being fed the same lies as victims of Chernobyl, who were told that yellow rain which fell over Russia and surrounding countries after the 1986 disaster was merely pollen, the same explanation now being offered by Japanese authorities.
Tokyo government officials have announced that radiation levels in Tokyo tap water are now so high that it is unsafe for infants to drink.
The scope of radiation-contaminated tap water expanded Thursday, with radioactive iodine detected in tap water in Chiba and Saitama prefectures, while the Tokyo Metropolitan Government, which said the day before its drinking water was contaminated, scurried to distribute 240,000 bottles of water to households with babies.
Reactors 5 and 6 at the Fukushima nuclear complex are reportedly now also leaking radiation.
The radiation released by the stricken Fukushima nuclear plant already rivals and in one sense exceeds the Chernobyl catastrophe according to Austria's Central Institute for Meteorology and Geodynamics, even as media spin downplays the severity of the crisis despite the fact that the problems at the plant show no signs of abating.
Bottled water was virtually impossible to find in Tokyo on Thursday.
Tokyo Electric Power Co. said Wednesday it has observed a neutron beam, a kind of radioactive ray, 13 times on the premises of the Fukushima Daiichi nuclear plant after it was crippled by the massive March 11 quake-tsunami disaster.
Radiation from the ongoing disaster in Japan is spreading throughout the United States, and while the EPA says the levels are not dangerous, it also admits that some of its radiation-tracking air monitors may not even be working.
An estimated 66,000 metric tons of spent fuel rods are stored at 77 sites around the United States – that's more than 145 million pounds.
The Japanese tsunami was more than 77 feet high at its peak.
Was the damage done to Japan's economy worse than originally thought?
Have the disasters in Japan broken the global supply chain?
Palestinian rockets struck two cities deep in Israel on Wednesday, wounding a resident and prompting Prime Minister Benjamin Netanyahu to threaten lengthy "exchanges of blows" with the Hamas-ruled Gaza Strip.
The IAF bombed terrorists that were attempting to shoot rockets into Israel on Thursday morning.
Oil traded as high as $106.69 a barrel Thursday in a nervous and uncertain energy market.
Will the price of gasoline reach $5.00 a gallon before the end of this year?
Portuguese Prime Minister Jose Socrates has resigned after parliament rejected an austerity budget.
A bailout for Portugal may total as much as 70 billion euros ($99 billion), two European officials with direct knowledge of the matter said as a credit-rating cut threatened to deepen Portugal's debt woes.
Warren Buffett told CNBC Thursday that the collapse of the euro zone's single currency is far from "unthinkable".
The US ranks near the bottom of developed global economies in terms of financial stability and will stay there unless it addresses its burgeoning debt problems, a new study has found.
Ten former chairmen of the White House Council of Economic Advisers say that a plan crafted by fiscal commission appointed by President Barack Obama should be "the starting point" for addressing what they labeled a "severe threat" to the nation's economy.
The Federal Reserve has "done a bit too much" quantitative easing amid signs "of speculative excess" in the the US, according to a senior official at the central bank.
The U.S. trade deficit grew by 33 percent in 2010 to nearly half a trillion dollars.
According to the Alliance for American Manufacturing, more than 5.5 million manufacturing jobs have been lost in the past 10 years.
The average American family's household net worth declined 23% between 2007 and 2009, the Federal Reserve said Thursday.
More than two-thirds of Americans saw their net worth decline during the recession according to the Fed.
One school district in the Chicago area is laying off 363 teachers.
The Postal Service is offering a $20,000 buyout to thousands of veteran workers as part of its bid to eliminate 7,500 administrative jobs, the agency announced Thursday.
Hammered by the auto industry's slump, Detroit saw its population plummet 25 percent over the past decade, according to census data released on Tuesday that reflects the severity of an economic downturn in the only state whose population declined since 2000.
The Census Bureau says that 403,765 new firms were started in the 12 months ended March 2009, down 17.3% from a year earlier and the fewest on records that begin in 1977.
Is gold replacing the dollar as the world reserve currency?
Silver recently hit $36.78 an ounce, the highest it has been since February 1980.
Some of the top experts in the world now believe that a collapse of the U.S. dollar is inevitable.
Is George Soros attempting to remake the entire world financial order?
CNN is reporting that Rep. Michele Bachmann will form a presidential exploratory committee. The Minnesota Republican plans to file papers for the committee in early June, with an announcement likely around that same time.
Ron Paul says that he is undecided about whether he will run for president or not.
Donald Trump is demanding that Barack Obama prove that he was born in the United States.
In the wake of changes to government employee unions' power in Wisconsin and elsewhere, The Communist Party USA is working in conjunction with national labor unions and other left wing political groups to organize protests in Madison, Wisconsin and across the nation on April 4th.
The Obama administration has begun examining whether it can make cuts to its nuclear weapons stockpiles that go beyond those outlined in a recent treaty with Russia.
The Russian Defense Ministry will buy 36 strategic ballistic missiles, two strategic missile submarines and 20 strategic cruise missiles this year, Minister Anatoly Serdyukov said on Friday.
Liberal Democratic Party of Russia leader and Vice-Chairman of the State Duma Vladimir Zhirinovsky released a statement today calling for the Nobel Prize Committee to take back the Nobel Peace Prize bestowed on Barack Obama in 2009.
Microsoft just spent $7.5 million to buy a block of 666,624 IPv4 addresses from Nortel in bankruptcy court. That works out to about $11.25 apiece.
A 7.0 earthquake recently struck an area near the Northern Thailand border.
Fonterra, a New Zealand-based cooperative that represents the world's largest exporter of dairy products, has been pinned by Greenpeace Australia for allegedly selling dairy products contaminated with GMOs, despite the fact that the company is not a GMO brand.
A dangerous drug-resistant bacterium has spread to patients in Southern California, according to a study by Los Angeles County public health officials, and it is killing 40 percent of the people that become infected.
Gender-bending chemicals found in non-stick pans and food packaging are linked to early menopause, some scientists are saying.
U.S. companies selling doomsday bunkers are seeing sales skyrocket anywhere from 20% to 1,000%.
Stink bugs, the smelly scourge of the mid-Atlantic, are hitch-hiking and gliding their way across the country. Officially known as the brown marmorated stink bug, sightings of the pest have been reported in 33 states, an increase of eight states since last fall.
The worst Texas drought in 44 years is damaging the state's wheat crop and forcing ranchers to reduce cattle herds, as rising demand for U.S. food sends grain and meat prices higher.
Four branches of the military have begun sending training material to 2.2 million active and reserve troops as a prelude to opening the ranks to gays, with instructions on, for example, what to do if an officer sees two male Marines kissing in a shopping mall.
A band of six Democrats in the California state Senate voted today to advance a bill that has been described as "the worst school sexual indoctrination ever" and would require that school children be taught to admire "lesbian, gay, bisexual and transsexual" role models.
Lastly, Border Patrol agents recently arrested 13 illegal immigrants disguised as U.S. Marines and riding in a fake military van, U.S. Customs and Border Protection said Tuesday.