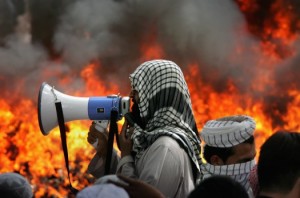 The latest headlines from The Most Important News….
Barack Obama is appealing for global support for his efforts to end the Middle East peace deadlock, warning that "more blood will be shed" if it fails.
Several hours after describing what Israel and the Palestinians are expected to gain from peace in his UN General Assembly address, Jordan's King Abdullah warned that if the settlement construction freeze issue is not solved, a violent conflict could break out by the end of 2010.
Former Israeli Prime Minister Ehud Olmert says that Israel should agree to an international trusteeship in Jerusalem's Holy Basin, should allow non-Jewish neighborhoods of Jerusalem to serve as the capital of a Palestinian state, and should offer to solve the Palestinian refugee problem within the framework of the Arab peace initiative.
Russia has announced that it is not going to sell Iran a highly advanced anti-aircraft missile system.
Endangered Democrats have been forced by slumping poll ratings into campaigning in the midterm elections against health care reform.
Since 2001, approximately 42,400 American factories have closed their doors, and roughly three-fourths of those employed over 500 people while they were in operation.
According to a new study conducted by the Economic Policy Institute, if the U.S. Trade deficit with China continues to rise at its current rate, the U.S. economy will shed over half a million jobs this year.
A total of 27 states reported higher unemployment rates in August, nearly double the 14 that saw increases in July.
U.S. new home sales were unchanged at a 288,000 annual pace in August, matching July as the second-lowest amount ever in data going back to 1963.
An increasing number of Americans are moving into tent cities.
Gold futures rose to a record $1,300 an ounce in New York as investors sought a protection of wealth and an alternative to a weakening dollar.
Silver climbed to the highest price since 1980 as the dollar's slump boosted demand for precious metals as alternative assets.
With the cost of commodities such as wheat and eggs on the rise, food manufacturers are making it clear that they won't be eating the increases alone.
The actual figure of the U.S. national debt is much higher than the official sum of 13.4 trillion dollars given by the Congressional Budget Office, according to analysts cited by the New York Post.
The U.S. dollar has hit a new all-time low against the Swiss Franc.
Is the U.S. banking system on the verge of collapse?
In the United States, consumption accounts for 70 percent of GDP. Of this 70 percent, over half is spent on services.
Barack Obama blasted Iranian President Mahmoud Ahmadinejad on Friday for what he called offensive and hateful remarks about the September 11 attacks.
North and South Korea are on the brink of war, a top Russian diplomat has warned, calling for both countries to exercise restraint and sit down for talks.
North Korean leaders headed by Kim Jong-il's son and heir apparent Jong-un met to discuss disrupting the G20 summit in November in Seoul, Radio Free Asia claimed Wednesday.
Hawkish military officers are increasingly seeing their views become official Chinese government policy.
The small but escalating conflict between China and Japan just hit a new high, as four Japanese were caught trespassing in a Chinese military zone and videotaping military targets.
It is being reported that China has placed an unofficial ban on the export of rare earth metals to Japan.
Barack Obama says that the "Mexicans" were here "long before America was even an idea".
Flooding caused by heavy rain forced the evacuation on Friday of dozens of homes in the small Minnesota city of Owatonna, where swollen waterways closed bridges and threatened to swamp neighborhoods.
A new bill in Congress would put U.S. coastal waterways under the control of the United Nations.
The Federal Communications Commission has, as expected, released unlicensed spectrum and it is anticipated that this decision to sell off the so-called "white space" will result in the widespread introduction of Super Wifi, already being trialled across the country. It is the first significant block of spectrum to be sold off in 20 years, and the FCC says it could generate as much as $7 billion in economic value each year.
U.S. lawmakers have introduced legislation that would allow the federal government to quickly block websites anywhere in the world if they are dedicated to sharing copyrighted music or other protected content.
Mercedes and Toyota are bringing new electric cars onto the market that rely on technology from the Californian automaker Tesla.
Witness testimony from more than 120 former or retired military personnel points to an ongoing and alarming intervention by unidentified aerial objects at nuclear weapons sites.
A new bill before the U.S. Senate could put many dietary supplement makers in the United States in prison for ten years.
Children as young as two are now dropping f-bombs, with researchers reporting that more kids are using profanity — and at earlier ages — than has been recorded in at least three decades.
In addition to discontent with out-of-control spending and government expansion, the American Tea Party movement is motivated by a strong devotion to the right to life of the unborn – something that appears to have caught the pro-abortion establishment, including Planned Parenthood, off-guard.
Nearly one in five gay and bisexual men in 21 major U.S. cities are infected with HIV, and nearly half of them do not know it, U.S. health officials said on Thursday.
Florida will immediately stop enforcing its ban on adoptions by gay people following a decision by a state appeals court that the three-decade-old law is unconstitutional, Gov. Charlie Crist said on Wednesday.
Stephen Hawking says that science is going to defeat religion.
Six people in the U.K. have been arrested on suspicion of inciting racial hatred after videos emerged on the internet apparently showing copies of the Koran being burned.
The Koran-burning controversy in the United States has prompted the Islamic bloc at the United Nations to revive its call for the U.N. to set up an "international monitoring mechanism" to track incidents of "Islamophobia".
More than 80 prominent Christian leaders are endorsing a 40-day fast leading up to the midterm elections.
Lastly, at least 100, and perhaps as many as several hundred, Christian pastors on Sunday will speak out on biblical issues and the political candidates on the November election ballot in direct violation of Internal Revenue Service regulations.