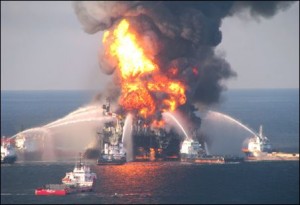 The most important news for Monday, May 31st, 2010….
Transocean, the firm hired by BP to operate the Deepwater Horizon offshore drilling rig, has just announced that it will distribute $1 billion in dividends to shareholders even as oil continues to pour into the Gulf of Mexico.
Transocean has also announced that it will make a $270 million profit on the insurance policy for the rig.
BP managing director Robert Dudley now says that it is possible that the oil flow will not completely stop until sometime in August when the relief wells are ready.
Is the dispersal agent that BP is using in the Gulf going to end up being worse for the environment than the oil spill is?
There are reports that whenever the wind blows towards the shore along the Gulf of Mexico, it is causing severe headaches, nausea, respiratory problems, burning eyes and sore throats.
One prominent energy expert is raising eyebrows by saying that nuking the oil leak is the "only thing we can do".
Scientists are warning that the oil spill is creating massive undersea "dead zones" in the Gulf of Mexico.
It is being reported that three German-built Israeli submarines equipped with nuclear cruise missiles will soon be deployed near the Iranian coastline.
There are new reports that Hezbollah is running weapons, including surface-to-surface missiles, from secret arms depots in Syria to its bases in Lebanon.
The Washington Post says that the U.S. military is reviewing options for a large military strike in Pakistan in the event that a successful attack on American soil is traced to the country's tribal areas.
A major U.K. newspaper is reporting that the U.S. has authorized a sweeping expansion of covert military operations in the Middle East and Africa, aimed at destroying terrorist networks in the region, and preparing the ground ahead of any presidential decision to attack Iran.
A leaked UN report says that North Korea is using front companies to export nuclear and missile technology to Iran, Syria and Burma.
Former Prime Minister Edward Seaga fears that Jamaica could fall under indefinite martial law in the aftermath of a week of violence during which, he says, soldiers and police indiscriminately killed dozens of innocent people.
According to a new poll, 46% of Americans say they're suffering from debt-related stress, and half of that group described their stress as "great deal" or "quite a bit".
France admitted on Sunday that keeping its top-notch credit rating would be "a stretch" without some tough budget decisions.
The Greek government has been advised by a group of British economists to leave the euro and default on its debt in order to save its economy.
Economist Michel Chossudovsky says that the worst of the global crisis is yet to come and all the measures taken to stop it are actually hurting the economy.
It turns out that the euro has not been the great economic success that so many European leaders once promised that it would be.
Is the euro crisis setting the stage for a one world currency?
For an inside look at how the "financial reform" bill got terribly watered down, check out this excellent article: "Wall Street's War"
It appears that the U.S. Census Bureau has been playing all kinds of games with numbers.
Tired of Detroit's status as the symbol of everything wrong with urban America, its new mayor has come up with a radical solution: bulldoze large sections of the city.
A Michigan lawmaker has introduced a bill that would license reporters to ensure they're credible and vet them for "good moral character".  
A man walked into a North Carolina Target store on Sunday and shot an employee he had had a previous relationship with before turning the gun on himself.
The policy director at a George Soros-funded, Marxist-founded organization calling itself Free Press has just taken a key State Department position.
Donald Berwick, Barack Obama's nominee to head the Centers for Medicare and Medicaid Services, recently made the following very chilling statement about health care: "The decision is not whether or not we will ration care – the decision is whether we will ration with our eyes open."
A group of worried scientists from the University of California at San Francisco has called upon the White House to take a closer look at the new full body airport security scanners.
It turns out that the VA actually has a policy to give bonuses for denied claims.
Armed Mexican pirates are terrorizing U.S. citizens on Falcon Lake in Zapata County, Texas.
Visits to many emergency rooms throughout the United States can now take many hours due to the illegal aliens waiting in line for "free" health care.
It has been announced that Monsanto will be dumping 60,000 seed sacks of hybrid corn seeds and vegetable seeds on Haiti.
The U.S. Department of Homeland Security is seeking to deport the "Son of Hamas" who recently made headlines all over the U.S. with the story of how he turned away from terrorism and to the Christian faith.
According to a new poll, Americans are increasingly becoming more tolerant of genetic engineering and embryonic stem cell research.
Genetic scientists from Ruhr-Universitaet-Bochum Germany have spliced a gene for a protein that activates under light into cells in the olfactory system of fruit flies.  The results of this experiment were quite bizarre.
A Family Research Council analysis of publicly available documents reveals that there is already a very serious problem with homosexual misconduct in the military.
U.K. Treasury Chief Secretary David Laws is fighting to avoid becoming the coalition government's first casualty after it was revealed that he funnelled £40,000 of taxpayer money to his secret gay lover.
The Baptist General Convention of Texas voted this week to distance itself from a North Dallas congregation over its acceptance of gay deacons.
The Food and Drug Administration has launched the process to lift the 27-year-old ban that prevents homosexuals from donating blood.
After centuries of being kept under lock and key, the Vatican has started opening its secret archives to outsiders in a bid to dispel the myths and mystique created by works of fiction such as Dan Brown's Angels and Demons.
Could the city of Oakland soon could become the first U.S. city to sanction and tax commercial pot growing operations.
Thousands of people have been forced to flee their homes as volcanoes have erupted in Guatemala and Ecuador.
Lastly, officials at NASA report that an unknown object approaching the Earth from deep space is almost certainly artificial in origin rather than being an asteroid.