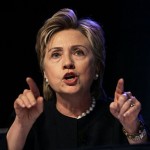 The most important news for Thursday, July 16th, 2009…..
Hillary Clinton opened her speech to the Council on Foreign Relations by acknowledging the extraordinary power that organization has over the U.S. government:
"We get a lot of advice from the Council, so this will mean I won't have as far to go to be told what we should be doing and how we should think about the future."
During the same speech, Clinton declared that the United States will not hesitate to use its military to "defend our friends, our interests, and above all, our people" during a segment in which she was discussing Iran.
The head of the World Health Organization says that the swine flu will be "the biggest pandemic ever".
The CDC is now saying that American school kids may have to get 4 flu shots in the fall.  At the same time many "health experts" are saying this, they keep their own kids from getting the shots because they know that it is not safe to pump so much mercury (a toxic heavy metal that causes brain damage) into such small bodies. 
Can the Internet be used effectively to reach people with the gospel of Jesus Christ? Yes! For the first time in its 5 year existence, the Internet ministry of Campus Crusade for Christ recorded over one million decisions for Jesus in a single month.
According to local reports, huge blobs of mysterious "goo" are floating in the Arctic sea off the coast of Alaska.
After so many years in Afghanistan, have foreign troops really made it a better place?
Congressional Budget Office Director Douglas Elmendorf says that the health care bills that the Democrats are trying to push through Congress would significantly raise health care costs instead of lowering them.
Are Israeli warships moving into position for a future attack on Iran?
Is America cursed?  Constant heat and drought continues to plague the state of Texas.
Lastly, police officers in the U.K. who practice witchcraft will now get their own Pagan Police Association and their own religious holidays.