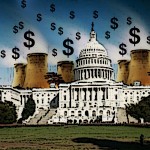 The most important news for Friday, June 26th, 2009…..
The U.S. House of Representatives is on the verge of voting on the "climate change" bill which some are calling the biggest tax increase in the history of the United States.  If this bill is passed it will be a devastating blow that the American economy may never recover from.
Newsweek has a disturbing new article that describes the unmanned blimps that the authorities are using to watch the population.
A flu surveillance official with the Centers for Disease Control and Prevention estimates that as many as 1 million Americans now have the swine flu.
Authorities say that some parts of Britain now have so many cases of swine flu that it cannot be contained.
Has the H1N1 swine flu mutated into a much more efficient and lethal strain?
Scientists in India are very excited about their brand new genetically modified fish that they think will be eaten all over India soon.
Michael Jackson had been taking prescription painkillers including anti-anxiety drugs Xanax, Zoloft and the painkiller Demerol in the months leading up to his death.
President Obama has invited leaders of the gay lobby to the East Room of the White House on Monday to celebrate the "birthday" of the homosexual movement.
Barack Obama is admitting that he still smokes.
Russia is pledging to raise carbon emissions in order to combat "global warming".
Lastly, the leader of the Ethiopian Orthodox Church has backed off on a much-anticipated announcement about the Ark of the Covenant.  It looks like this mystery will continue for at least a few more days.