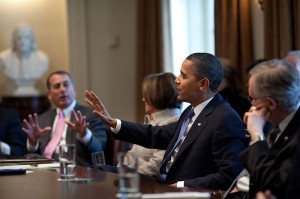 The latest headlines from The Most Important News….
Many in the Tea Party movement are absolutely furious about the $38.5 billion budget deal that he agreed to with the Democrats and are calling for his resignation.
The budget deal is not going to cut an additional $38.5 billion. That headline number includes $12 billion in cuts that were included in three prior short-term funding resolutions. That leaves lawmakers looking for $26.5 billion to cut from agencies and programs.
A magnitude 6.6 aftershock has just rattled Japan  This comes nearly a month after the magnitude 9 earthquake that spawned a deadly tsunami.
The situation at the Fukushima nuclear complex in Japan just seems to get worse by the day.
Japan's government called for evacuations Monday from several towns beyond the danger zone already declared around the Fukushima Daiichi nuclear power plant, warning that residents could receive high doses of radiation over the coming months.
Uranium-234 has been detected in Hawaii, California and Seattle.
New EPA milk samples in Hawaii show radiation in milk at 800% above limits for C-134, 633% above limits for C-137 and 600% above EPA maximum for I-131 for a total of 2033%, or 20.33 times, above the federal drinking water limits.
The crisis at Fukushima is likely to continue for years.
Forces stormed the president's residence in Ivory Coast on Monday and arrested self-declared president Laurent Gbagbo, whose refusal to accept the results of a presidential election last year plunged the West African nation into civil war.
Libyan rebels rejected an African Union peace plan on Monday because it did not address their main demand that Muammar Gaddafi quit and because it proposed reforming a ruling system they want removed.
NATO said on Monday it took note of reports of an African Union proposal for a cease-fire in Libya, but an official said the alliance would target Muammar Gaddafi's forces as long as they threatened civilians.
Around 2,000 protesters defied an army demand to leave Cairo's Tahrir Square on Monday, vowing to stay until Egypt's ruling military council heeds their demand for civilian rule and a deeper purge of corrupt officials.
Syrian security forces sealed off the coastal city of Banias overnight following sectarian killings by forces loyal to Syrian President Bashar al-Assad, witnesses said on Monday.
An Egyptian military court on Monday jailed a blogger for three years for criticizing the armed forces, the country's rulers since president Hosni Mubarak's ouster in February, his lawyer told AFP.
An explosion tore through a key subway station in the Belarusian capital of Minsk during evening rush hour Monday, killing seven people and wounding 50 others, officials said.
Unlike Americans, the people of Iceland were allowed to vote on bailing out the banksters. They voted overwhelmingly against the proposal on Saturday despite the intimidation tactics of the globalist loan sharking operation, the International Monetary Fund.
The Congressional Research Service estimates that the U.S. government will need to borrow $738 billion between April 1 and Sept. 30.
Are we going to see $5 gas by Memorial Day?
Gold is at a new record, wheat is surging, corn is at highest since 2008, crude at a new 30 month high, silver is at $41.10 – a new fresh post Hunt high, beans surging, etc, etc, etc.
Just 59 percent of Americans now believe that the "free market economy is the best system on which to base the future of the world."
Is the Federal Reserve attempting to sink the U.S. dollar to goose corporate profits, reinflate asset prices and create "modest inflation"?
Federal Reserve Vice Chair Janet Yellen is promising that inflation will not "impede the economic recovery".
It turns out that PIMCO is now shorting U.S. government bonds.
PIMCO chief Bill Gross has been warning of a U.S. debt default, while wondering who would stick around to buy Treasuries following the end of QE2.
Many on Wall Street are absolutely convinced that PIMCO has made exactly the right move.
There are several counties in America, each with more than 10,000 homes, which have vacancy rates above 55%.
The outgoing chairman of the nation's third-biggest health insurer exercised stock options worth more than $50.3 million and pulled in $18.4 million in pay, stock and other compensation, according to the company's 2011 proxy filing.
In America today, the top 1% control 40 percent of the nation's wealth.
The United States has increased its military spending by 81 percent since 2001.
It didn't take Donald Trump long to respond to the comment by White House adviser David Plouffe that he has "zero chance" to be president and that his prospective campaign is a "sideshow."
Republicans Mike Huckabee and Mitt Romney lead Barack Obama in Florida, according to a new poll out today on the 2012 presidential race.
The Rasmussen Reports daily Presidential Tracking Poll for Monday shows that 19% of the nation's voters Strongly Approve of the way that Barack Obama is performing his role as president, which was a brand new low.
Defense Secretary Robert Gates says taht U.S. troops could remain in Iraq for years to come.
Israeli Prime Minister Benjamin Netanyahu on Monday said that Iran has recently accelerated its nuclear program as it appeared to sense a reduction in international pressure
In Israel, the success of the Iron Dome missile defense system so far – nine interceptions including the system's first one on Thursday night – has surprised even the air defense troops who have been training to operate the device for several months.
In California, what started out as a program to hold unclaimed property, such as the contents of safety deposit boxes owned by people who have moved away without a forwarding address, has gone wildly out of control. The program is now using the flimsiest of excuses to drill safe deposit boxes and sell the contents, often for below-market value, the proceeds going to the state's general revenue.
Are "mega earthquakes" on the rise?
The evidence in support of Andrea Rossi's "cold fusion" or "LENR" (low energy nuclear reaction) based Energy Catalyzer continues to grow.
Blueberries, which have already been lauded as a superfood for their ability to help prevent heart disease and Type-2 diabetes, contain high levels of polyphenols – groups of chemicals with potential health benefits.
Girls in the United States are now reaching puberty earlier than ever.
Environmental pollution, plastic chemicals, pharmaceutical drugs, pesticides, unhealthy diets, radiation-emitting technologies — these and many other factors are contributing to an epidemic decline in sperm counts among modern men.
In a 70-28 vote, the Tennessee House of Representatives passed HB 368, a bill that encourages science teachers to explore controversial topics without fear of reprisal.
A Mississippi state judge has issued an order to public school attendance officers in his judicial district to provide the names of all homeschoolers there.
Lastly, police in China
detained  hundreds of Christians
as they gathered for an outdoor service in Beijing recently. The detentions are the latest in a crackdown on individuals and groups deemed by the government to pose a threat to social stability.