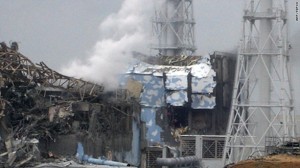 The Most Important News….
The radiation level in the ocean near the Fukushima nuclear plant keeps rising. It is now 4,385 times above what is considered normal. This is a significant increase from the yesterday's report that the I-131 isotope found in the water was 3,355 times the regulatory limit.
The consistently high levels of radiation found in the sea outside Japan's tsunami-damaged nuclear plant complex may mean that radiation is leaking out continuously, Japan's nuclear watchdog said on Thursday.
Workers who have been fighting to bring the reactors under control at Japan's strick nuclear plant expect to die from radiation sickness, according to the mother of one of the men.
The loss of two nuclear power plants means the Tokyo region will face the summer peak demand with a loss of about 20% of capacity, the plant's owner said Thursday.
There is no health risk from consuming milk with extremely low levels of radiation, like those found in Washington state and California, experts said Thursday, echoing the U.S. Environmental Protection Agency.
Is the nuclear crisis in Japan going to continue for months or even years?
Barack Obama signed a secret order a few weeks ago authorizing covert U.S. government support for rebel forces seeking to oust Libyan leader Colonel Muammar Gaddafi, according to government officials.
It is being reported that before any no fly zones, NATO involvement or UN resolutions, US and British intelligence and special forces were on the ground inside Libya, coordinating the uprising against Gaddafi and waging a covert war.
NATO chief Anders Fogh Rasmussen said today the alliance was opposed to arming the Libyan rebels fighting against Muammar Gaddafi.
Mussa Kussa, the Libyan foreign minister who flew to Britain Wednesday and said he was defecting from the Tripoli regime, is described as a "master of international terrorism" and the man responsible for exporting Muammar Gaddafi's revolution.
Today, in Libya, a ragtag group of rebels fight a seesaw battle against Muammar Qaddafi's better-equipped forces, and a debate rages over whether to provide them arms and training. However, whispers are growing that al Qaeda may already be among them, complicating the current debate over arming the rebels.
Is the U.S. headed for a "worst case scenario" is Libya?
Following a closed briefing for members of the House on the U.S. military operation in Libya, Democrat Rep. Charlie Rangel said that he would "like to believe" members of Congress are looking into whether or not the attack on Libya without congressional approval is an impeachable offense.
Alassane Ouattara, the internationally recognized president of the Ivory Coast, on Thursday declared a curfew in Abidjan as forces loyal to him moved closer to taking control of the city.
In the first economic metric since the Japanese earthquake struck, Japanese manufacturing activity slumped to a two-year low in March and posted its steepest monthly decline on record, confirming all the worst fears about supply chain disruptions and production operations.
Toyota may delay the production of at least 500,000 vehicles in Japan because of a shortage of parts and electricity after the nation's record earthquake, said an analyst at Advanced Research Japan.
U.S. consumers face "serious" inflation in the months ahead for clothing, food and other products, the head of Wal-Mart's U.S. operations warned Wednesday.
Hershey has announced a nearly 10 percent price increase across its line of candy products to cover rising raw material costs, fuel and transportation.
Corn prices are spiking dramatically after a bleak forecast was released by the USDA.
Freddie Mac said Thursday that the average rate on the 30-year fixed mortgage rose to 4.86% from 4.81% the previous week.
The U.S. had 1.8 million distressed homes in January that had yet to be listed for sale, a "shadow inventory" that is expected to weigh on home prices for years.
J.P. Morgan Chase and other banks are trying to recoup approximately $30 billion a year in lost overdraft fee income by testing $5 ATM fees, Consumer Action spokesman Joe Ridout told CNBC.
Is the next financial crisis going to wipe out large numbers of U.S. banks?
New orders for manufactured goods in February, down following three consecutive monthly increases, decreased $0.4 billion or 0.1 percent to $446.0 billion.
The Federal Reserve is now purchasing 70% to 80% of all new U.S. Treasuries.
The Federal Reserve is naming the banks that drew emergency loans during the financial crisis, offering information on its oldest lending tool for the first time in the central bank's nearly 100-year history.
When news broke that Pimco's Total Return Fund had slashed its U.S. Treasury holdings to zero, investors were left wondering why the world's biggest bond fund would bail out of the safe haven.
In his latest investment outlook, Bill Gross warns that America will default, thanks to trillions in entitlement obligations.
Political instability and a potential EU financial rescue package for Portugal that will increase interest rate burdens pushed rating agency S&P to downgrade the country's debt status for the second time in a week to BBB-, only one notch above junk status.
The head of General Electric on Thursday defended the conglomerate's zero tax rate in 2010, and called for reform of the U.S. tax code.
The chief U.S. tax collector said Thursday that budget cuts proposed by Republicans would have "potentially devastating" impact on the nation's tax system, including a drop in enforcement revenue by $4 billion for the rest of this year.
Tea Party supporters who rallied on Capitol Hill today didn't sound too impressed with a tentative deal to cut about $33 billion from the federal budget and avoid a government shutdown.
Israel's efforts to rally countries against Palestinian Authority plans to ask the United Nations to recognize a Palestinian state along the pre-1967 lines are hindered by the fact that Israel has not presented any plan of its own, diplomatic officials said Tuesday.
State and local governments are slashing their budgets by roughly $110 billion this year.
How in the world did two kids in their 20s win a $300 million contract from the Pentagon to arm America's allies in Afghanistan?
It turns out that our cell phones are tracking our every move.
The recorded impact of the Gulf of Mexico oil spill on wildlife may have severely underestimated the number of deaths of whales and dolphins, according to a new report.
A series of undercover phone calls contacting 30 Planned Parenthood clinics in 27 states revealed that the organization does not offer mammograms, contrary to claims made on national TV by Cecile Richards, the group's CEO.
A surge in Satanism fueled by the Internet has led to a sharp rise in the demand for exorcists, the Roman Catholic Church has warned.
Lastly, Delaware police and DOT officials — armed with a front-end loader and a massive dump truck — recently ripped a basketball hoop out of a family's front yard and carted it away, despite the protests of the angry parents.