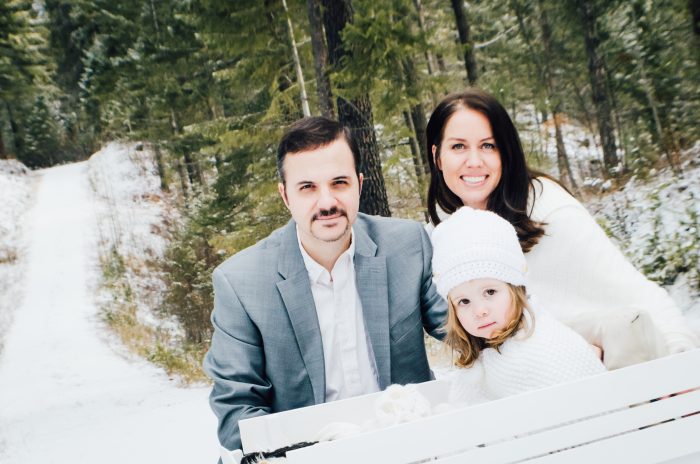 Tonight, I am writing this from my little office where I have spent more time than anywhere else over the past six years. During the day, I can look out the window and see snow-capped mountain peaks all the way on the other side of the valley. Life is so simple and so beautiful here, and in my wildest dreams I never imagined that our nice, quiet life would be interrupted by a run for Congress. But then that fateful day in May arrived, and life hasn't been the same for Meranda and I ever since.
Whoever ultimately wins this race is not just going to be making decisions that affect Idaho. The decisions that members of Congress make affect every man, woman and child in the entire country, and that means that whoever wins this race is going to be making decisions that have a direct impact on your life no matter where you live.
Unfortunately, if I don't win this race someone really bad will almost certainly take this seat. For example, one of the leading candidates is currently a member of the state legislature, and he has a voting record that is so bad that it was once given an "F-" grade by the Idaho Freedom Foundation.
Yes, you read that correctly.
I didn't even know that you could get below an "F" grade. For the most recent session, his vote index score was 42.3 out of 100. This was the lowest score for any Republican, and there were actually only four Democrats that had a voting record that was as bad or worse than his.
The other member of the state legislature that has entered this race is almost nearly as bad. Her vote index score for the most recent session was 54.3, and she is widely known to be an extremely liberal Republican.
I once wondered why the Lord would lead me to enter this race, but now it is becoming crystal clear. If I don't win, this seat will almost certainly be won by one of these RINOs, and we cannot allow that to happen.
December 31st is the most important financial deadline that our campaign is facing so far. Last week I explained that we desperately need to raise $30,000 by the end of December, and only a couple thousand dollars has come in so far. I know that most people are entirely focused on the holidays this time of the year, but I cannot stress hard enough how much we need your help right now. During the first three months of 2018, Republican organizations all over the country will decide who they are going to back in this race, and it is absolutely imperative that we have good numbers to report to them. If you would like to make a donation to the campaign, you can do so at this link…
https://www.michaelsnyderforcongress.com/contribute.html
Of the six candidates in this race, at this point we are projecting that we will come in either fourth or fifth in fundraising this quarter at our current pace.
That would be a disaster.
According to virtually every other measurement, we are absolutely crushing our competition in this race. We are reaching the most voters, we have more campaign website traffic than anyone else, we are destroying our opponents on social media, and we received more votes in the most recent online poll than all of the other candidates combined.
But if we don't finish in the top three in fundraising this quarter, top Republicans on the national level aren't going to care about any of that.
In fact, I know exactly what they are going to say to me when I talk to them.
They are going to say that I had a nice start, but that I wasn't able to raise enough money to take it across the finish line.
This is literally our last chance to impress Republicans on the national level. The next report after this one won't come out until just over a month before the election, and that will be way too late.
I need everyone that believes in this campaign to stand with us now. There are literally hundreds upon hundreds of people that have volunteered or donated so far, and we cannot let them down. If you would like to become a part of the team, you can donate online right here…
https://www.michaelsnyderforcongress.com/contribute.html
Earlier this evening, Meranda and I attended a celebration in town. Everyone there was so excited about our race for Congress, and that was very encouraging to see. At one point someone asked me for a yard sign, but I had to admit that we don't have one to give him right now. Demand for campaign materials has been crazy, and we are starting to run out of just about everything.
So we need to print up more signs, more brochures and more mailers. More than 800,000 people live in this district, and we need to get our message to every single one of them if we hope to win.
Can you imagine how much it costs to reach 800,000 people?
Without your help, we are not going to be able to do that. Would you help us print the campaign materials that we desperately need? The donation limit per campaign cycle is $2,700 per person. That means that a husband and a wife can collectively donate $5,400. If just one couple was willing to help us at that level, we would be able to print up all of the materials that we currently need…
https://www.michaelsnyderforcongress.com/contribute.html
Right now we are actually offering a free bumper sticker to any voter in our district that wants one. It is a great way to spread the word about the campaign, and it doesn't cost a lot to print them up. We are able to get things done much cheaper than other campaigns are able to, and I am blessed to be working with people that can stretch one dollar into four or five.
Even though a couple of the other campaigns have raised more money than us so far, nobody else can match what we are doing, and we want to take things to the next level. But we need resources in order to do that, and this is such a critical time.
Over the next few weeks, this race is really going to take shape. It is absolutely imperative that we are considered one of the leading contenders, and with your help we can get there.
I have been told that the only way that we can lose this race is if someone else raises much more money than us. So far, nobody in this race has been able to raise much money, and that has given us time to get our act together.
Fundraising is new to me, and I am sure that if I was willing to be dishonest that I could do so much better. All I know how to do is to tell you the truth and hope that you will support what we are trying to do.
This is our campaign, and we literally have people from coast to coast that are praying for us. Please pray for blessing, protection and that God's will would be done. And if you would like to bless our campaign financially, we would greatly, greatly appreciate the help…
https://www.michaelsnyderforcongress.com/contribute.html
I wish that I could sit down with you in your living room and show you how close to victory we are. Things are looking so much brighter for our campaign than they were a couple of months ago, and we now have a campaign team that literally stretches from the very top county in the state to the very bottom county in the state.
But this is still very much a wide open race. Since Raul Labrador is running for governor, there is no incumbent, and there are six of us that are running to replace him. The numbers tell us that name recognition and voter support for the other five candidates is very low, and most voters are still in the "undecided" category.
We need to reach those undecided voters before the other guys are able to. We know exactly how to do that, and we just need the fuel in our tanks to be able to get that done. If you were ever going to give to the campaign, now is the time…
https://www.michaelsnyderforcongress.com/contribute.html
If we are able to raise the rest of the $30,000 that we desperately need by the end of December, I will be absolutely floored.
My team is counting on a major miracle, and I don't want to let them down.
We have only 15 days until our most important deadline so far, and we feel like we are way out on a limb.
But God can make a way where there seems to be no way, and we know that with God all things are possible.
So we will just share the fact that we really need your help to meet our deadline, and we will trust that God will move in the hearts of those that are supposed to support us.
I would like to thank everyone that has gotten involved in the campaign so far. Together, we have already done what others said was impossible, and next May we are going to absolutely shock the world.