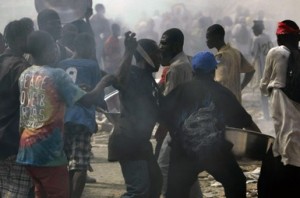 The most important news for Tuesday, January 19th, 2010….
The relentless chaos in Port-au-Prince is severely hampering efforts to get aid to victims of the Haiti earthquake.
France has accused the U.S. of "occupying" Haiti as thousands of American troops flooded into the country to take charge of aid efforts and security.
The first wave of Haitian orphans has reached the United States, but a million more face uncertain futures back in Haiti.
One orphanage in Haiti that collapsed during the earthquake is continuing its mission right out in the middle of the street.
Is the disaster in Haiti going to open a huge door for Islam in that nation?
It is being pointed out that Haiti was an ecological disaster even before this most recent earthquake.
A magnitude 6.0 earthquake hit Guatemala's Pacific coast near the border with El Salvador on Monday, but fortunately it did not do much damage.
The number of large magnitude earthquakes has been increasing dramatically over the past few decades.
In an interview with Kuwaiti newspaper Al-Rai published on Sunday, a U.S. official who spoke on condition of anonymity said that "if Syria supplies Hezbollah with surface-to-air missiles (SA-2), war will break out and Tel Aviv will directly strike Damascus."
Last week's failed attempt on the lives of Israeli diplomats in Jordan was apparently carried out on instructions from Iran.
Israel has resumed airlifts of Jewish Ethiopians after having halted them for more than a year.
The U.S. military has announced plans to double the amount of military equipment it has stockpiled in Israel.
ABC News is terribly upset that coded references to New Testament Bible passages about Jesus Christ are inscribed on high-powered rifle sights provided to the United States military by a Michigan company.
What in the world is going on in Afghanistan?  A series of coordinated attacks by presumed Taliban militants in the Afghan capital of Kabul recently killed at least 10 people and injured 32.
It has now come out that the FBI illegally collected more than 2,000 U.S. telephone call records between 2002 and 2006 by invoking terrorism emergencies that did not exist or by simply persuading phone companies to provide records.
If you think that the full body scanners that show everything that are going into airports across the U.S. are bad, just wait until they start implementing the "mind reading" technology that they are developing.
Business travellers flying to the United States must now obtain electronic authorization to travel or face not being able to board their plane.
Some analysts are now projecting that 200 banks will fail in the U.S. in 2010.
The biggest banks in the U.S. cut their collective small business lending balance by another $1 billion in November.
Are there signs that the U.S. economy is on the verge of another massive plunge?
Japan Airlines has officially filed for bankruptcy.
In the largest anti-abortion protest held in Houston in years, several thousand people on Monday marched, prayed and kept silent to convey their opposition to the abortion super center that Planned Parenthood will open in Houston in March.
More than 40 people were killed in a Muslim-Christian clash this past weekend in a central Nigerian city with a history of volatile relations between the two religions.
The FDA is slamming the manufacturer of Tylenol for a slow response to problems at a facility in Puerto Rico that led to consumers becoming sickened by tainted pills.
The German government is warning Germans to avoid using all versions of Microsoft Internet Explorer after a security hole led to attacks against Google and others by hackers in China.
Be careful what you say online – one man was recently arrested and held in police cells for seven hours as a suspected terrorist after making a joke on Twitter about his local airport.
Is access to dirty images on the Internet killing real life relationships for many men?
A series of sexual assaults on very elderly women has one Texas town completely terrified.
Lastly, the number of women who graduate from college in the U.S. is much larger than the number of men who graduate from college.