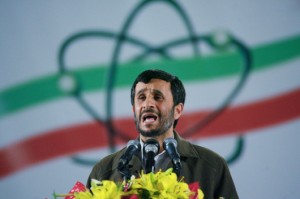 The most important news for Wednesday, July 14th, 2010….
Russian President Dmitry Medvedev said on Monday that Iran is close to having the potential to build a nuclear weapon.
Israeli Prime Minister Benjamin Netanyahu says that he does not envision a negotiated Middle East peace settlement within the next two years, despite his Palestinian counterpart's declared intentions to set up infrastructure for a state by 2011.
According to a newly released poll, nearly 60 percent of American voters say that they lack faith in Barack Obama.
According to another new poll, 51 percent of Americans support Arizona's new immigration law as it stands, compared with 35 percent who support the U.S. government's case against Arizona.
170 liberal groups have launched "One Nation"– the left's version of the Tea Party movement.
Newly published election spending figures show Sarah Palin ended the last quarter with a war chest of more than $1 million, suggesting gathering momentum for a run at the White House in 2012.
Former U.S. House Speaker Newt Gingrich says that he's considering running for president in 2012 and expects to make a decision by early next year.
BP has announced that "integrity tests" will be conducted to determine whether a new cap can completely seal its well in the Gulf of Mexico that has been spewing oil for 85 days.
Has BP been engaged in night time spraying of a bleaching agent on Louisiana beaches to make it appear that the beaches are being cleaned up?
The "flow team" of the U.S. Geological Survey estimates that 2,900 cubic feet of natural gas, which primarily contains methane, is being released into Gulf of Mexico waters with every barrel of oil.
China's leading credit rating agency has stripped America, Britain, Germany and France of their AAA ratings.
Moody's has slashed Portugal's credit rating by two notches.
It is being reported that six successive quarters of negative economic growth in the U.K. from spring 2008 until autumn 2009 were the toughest for the U.K. economy since the Great Depression of the 1930s.
The federal budget deficit has topped $1 trillion with three months still to go in the current budget year.
The heads of Barack Obama's national debt commission say that the U.S. national debt "is like a cancer".
Could the growing U.S. trade deficit derail any hope for an economic recovery?
The U.S. Senate plans to take up the financial regulation bill on July 15th, and Democrats say that they have secured the 60 votes needed to enact the "biggest rewrite of Wall Street rules since the Great Depression".
Has the U.S. Congress created a huge financial incentive for rich people to die before January 1st, 2011?
Oakland's police chief says that due to severe budget cuts, his officers will no longer respond to grand theft, burglary, car wrecks, identity theft and vandalism.
An increasing number of doctors are refusing to accept Medicaid patients.
Across the United States, people are now routinely being jailed even for small unpaid debts.
83 percent of all U.S. stocks are in the hands of 1 percent of the people.
China, the world's largest rare earth mineral producer, cut export quotas for the minerals needed to make hybrid cars and televisions by 72 percent for the second half, raising the possibility of a trade dispute with the United States.
Will a day of reckoning soon come for the growing U.S. pension fund crisis?
An obscure book about the collapse of the German economy in the 1920s has become cult reading among leading financiers.
Two Georgia cops have lost their jobs after a video emerged of them macing and tasering a 57 year old woman who simply called to report a prowler outside her house.
In Connecticut, when police shot and killed a family dog in front of the children, they gave the following excuse: "It's just a dog."
The backlash against the new full body security scanners going into airports all across the United States continues to grow.
Are American vigilantes shooting and killing members of Mexican drug cartels in the Arizona desert?
Are Muslim enclaves in the United States creating "no-go zones" where local governments have little to no authority?
A group of American missionaries was among those injured in the bombings in Uganda Sunday night that left at least 74 dead.
An upsurge in the number of North Korean soldiers defecting into China is fueling fears of food shortages and of an imminent military clash.
Russia has announced plans to test-launch up to 12 ballistic missiles a year over the next decade.
Russia's next generation S-500 air defense system will reportedly be capable of destroying hypersonic and ballistic targets.
Seven U.S. congressmen, led by Senator Benjamin L. Cardin (D-MD), spent their 4th of July weekend  hand-delivering seeds to the Svalbard Global Seed Vault in Norway.
Is new evidence emerging that Barack Obama stole the Democratic Party nomination from Hillary Clinton in 2008?
Many Tea Party groups have decided to stay mute on the issue of gay marriage.
A federal appeals court struck down the Federal Communications Commission's indecency policy on Tuesday, calling the agency's longstanding rules "unconstitutionally vague".
A Vatican exorcist who has dealt with over 70,000 cases of demonic possession claims to know of the existence of "Satanic sects" in the Vatican where participation reaches all the way to the College of Cardinals.
The ban on crucifixes in the classroom has left many Italians feeling quite disgusted with the European Union.
One team of scientists says that they may have discovered why eating broccoli seems to reduce the chance of developing prostate cancer.
Recent research indicates that average male sperm counts have dropped to half of what they were 50 years ago.
Are global warming alarmists getting ready to come after your air conditioning?
Enough fat to fill nine double-decker buses is being removed from sewers under London's Leicester Square.
Russia's government is trying to prevent cattle breeders from slaughtering livestock as a worsening drought cuts into feed supplies.
A massive sinkhole at a condominium complex in Florida has swallowed a car and it might not be done yet.
Another sinkhole recently swallowed a car in one St. Louis neighborhood.
Seismologists are increasingly concerned that the 7.2 Mexicali temblor on April 4th placed more pressure on faults around the Southland, resulting in increased quake activity over the last three months.
Historians claim to have finally located the site of King Arthur's Round Table – and believe it could have seated 1,000 people.
According to records from the Office of Compliance, taxpayers have paid out nearly $1 million per year in settlements to congressional employees who have been harassed or otherwise treated badly by their political bosses over the past 14 years.
Lastly, the allure of the blockbuster "Twilight" books and movies appears to have spawned a very troubling trend.  Teen couples are biting one another to show affection, sometimes biting so hard that they draw blood.