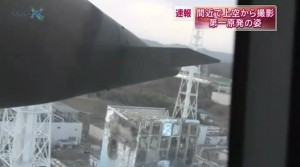 The latest headlines from The Most Important News….
The situation at Japan's tsunami-stricken nuclear plant is "very serious" but at the moment it does not appear to be deteriorating, a senior official of the U.N. atomic agency said Thursday.
Efforts to cool down one of the reactors at a quake-damaged Japanese nuclear power plant have been "somewhat effective" since authorities turned helicopters, fire trucks and police water cannon on the facility, its owner said early Friday.
A United Nations forecast of the possible movement of the radioactive plume coming from crippled Japanese reactors shows it churning across the Pacific, and touching the Aleutian Islands on Thursday before hitting Southern California late Friday.
Why are the spent fuel rods at the Fukushima Dai-ichi nucler plant such a threat?
Fallout from the current meltdown occurring at Japan's Fukushima Dai-ichi nuclear plant, which was hit by the 9.0+ mega earthquake and tsunami last Friday, could contaminate the world's food supply with toxic radiation according to experts.
Is the mainstream media downplaying the amount of radiation that will make it to the U.S.?
Radiation detectors at Dallas-Fort Worth and Chicago O'Hare airports were recently triggered when passengers from flights that started in Tokyo passed through customs, the New York Post reported.
Suggesting that levels of radiation leaks from the stricken Fukushima plant are being grossly underreported by Japanese authorities, a Swedish government agency told Reuters today that not only will the radiation reach North America, but it will subsequently cover the entire northern hemisphere.
The U.S. State Department says that the United States has chartered aircraft to help Americans leave Japan and has authorized the voluntary departure of family members of diplomatic staff in Tokyo, Nagoya and Yokohama — about 600 people.
Mizuho, the second-largest financial services company in Japan, has just locked out its customers from accessing their cash.
Many Chinese, fearing radiation poisoning from the earthquake-ravaged nuclear plant in neighboring Japan that just lies across the sea, are buying iodine pills to protect themselves.
Japanese citizens are starting to leave Tokyo in very large numbers.
Is the nuclear crisis in Japan going to cause an energy crunch?
Millions of Japanese people are bracing themselves for massive blackouts as the country's power system struggles to cope amid the nuclear crisis.
The Bank of Japan has pumped 6 trillion yen into the country's financial markets in a bid to stabilize them.
Problems in Japan have become exhibit A in what economists say is the greatest threat to the recovery in the United States — uncertainty overseas.
Will quantitative easing have to be extended because of the crisis in Japan?
The U.S. national debt jumped by $72 billion on Tuesday even as the Republican-led U.S. House of Representatives passed a continuing resolution to fund the government for just three weeks that will cut $6 billion from government spending.
Treasury Secretary Timothy Geithner said on Wednesday that there was no alternative except for Congress to raise the debt ceiling so that the government can keep borrowing. "Congress has to do it. There's no alternative," he said in response to questions at a House of Representatives appropriations subcommittee.
General Motors plans to halt production temporarily of the Chevrolet Colorado and GM Canyon compact pickups made at Shreveport, La., because some parts come from Japan and aren't available now.
Japan will get what it wants from the Group of Seven teleconference of finance ministers and central bankers Thursday night, but G-7 sources say the group is still waiting for Japan to ask.
U.S. housing starts posted their biggest decline in 27 years in February while building permits dropped to their lowest level on record, suggesting the beleaguered real estate sector has yet to rebound from its deepest slump in modern history.
The U.S. Consumer Price Index (CPI), which is the official government measure to track inflation, is up 2.1 percent from last year.
Food prices at the wholesale level rose last month by the most in 36 years. Cold weather accounted for most of it, forcing stores and restaurants to pay more for green peppers, lettuce and other vegetables, but meat and dairy prices surged, too.
Americans spend only about 10% of their annual incomes on food, compared with as much as 70% in other countries, but with prices climbing, some economists wonder whether the nation's abundance of affordable food is history.
A special index created by the Labor Department to measure the actual cost of living for Americans hit a record high in February, according to data released Thursday, surpassing the old high in July 2008.
Public/quasi-public employment rose steadily over the past ten years, and is now up 16%. By comparison, the rest of the private sector  is down 8% in jobs over the past 10 years.
North Dakota, the state with the nation's lowest unemployment rate, capped a decade of economic prosperity with dramatic population growth in its biggest cities.
The U.S. Senate has easily passed the sixth in a series of short-term spending bills to avoid a government shutdown.
The U.S. House of Representatives has easily passed a bill that would eliminate taxpayer funds for NPR, a week after a fundraising executive was caught on video saying the organization would be better off without government support.
Hillary Clinton, the US Secretary of State, has confirmed that she will not serve in the next Barack Obama administration if the president wins a second term in 2012.
Faced with a Congress hostile to even slight restrictions of Second Amendment rights, the Obama administration is exploring potential changes to gun laws that can be secured strictly through executive action, administration officials say.
A group of Democratic lawmakers has introduced legislation that would result in a tax hike of up to 40% for the wealthiest Americans.
One protester in Bahrain was recently shot at point blank range.
The United States, in a reversal of its previous position, now says the UN Security Council should consider more than a no-fly zone to protect civilians in Libya.
Russian President Dmitry Medvedev said on Wednesday that any military intervention in Libya may trigger a war.
Undersecretary of Defense for Policy Michele Flournoy and Gen. David Petraeus, the top U.S. commander in Afghanistan, told the Senate Armed Services Committee Tuesday that the Obama administration is planning to maintain "joint" U.S.-Afghan military bases in Afghanistan after 2014 and it plans to conduct what Flournoy described as "joint counter-terrorism operations" with the Afghan military after that date.
Enviropig is the trademark for a genetically modified line of Yorkshire pigs, first created in 1999, with the capability to digest plant phosphorus more efficiently than ordinary unmodified pigs.  They are considered "greener", emitting a smaller quantity of pollutants in their manure.  Thus, the name "enviropig".  Their creators hope one day that enviropig's will be sold in markets, fast food chains and in packaged food.
CNBC is mocking "Armageddon entrepreneurs".
The New Hampshire Supreme Court on Wednesday affirmed a lower court's decision to order an 11-year-old out of homeschooling and into a public school.
Lastly, crews are on scene assessing a 40-foot section of Highway 1 that fell into the Pacific Ocean near the Big Sur area Wednesday night, according to the California Department of Transportation.