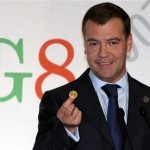 The most important news for Friday, July 10th, 2009…..
At the G8 summit in Italy today, Russian President Dmitry Medvedev unveiled a coin which he says represents a "united future world currency".
Six members of the House Intelligence Committee are claiming that CIA Director Leon Panetta has admitted that his agency regularly misled Congress for most of this decade.
U.K. Prime Minister Gordon Brown says that his nation could cut nuclear warheads as part of global deal.  It seems as though most western nations are really eager to disarm at this point.
Police in the U.K. have been breaking into the homes of citizens in order to warn them of the dangers of burglary.  Seriously.
A new blasphemy law in Ireland means that Christians can be prosecuted for claiming that Allah is a moon god or for saying that Islam is a violent religion which tends to breed terrorists.
Health officials say that the number of Britons who have died after contracting swine flu has almost doubled in two days to 14.
The Obama administration is warning Americans to be ready for a very aggressive return of the swine flu in the fall.  Do they know something that we don't?
The U.S. government is spending billions of dollars on swine flu vaccines.  Will these vaccines even do any good if the virus mutates?
A team of scientists is reporting that a form of Ebola virus has been detected in pigs for the first time, raising concerns it could mutate and threaten humans.
The New York Times plans to start charging for online content.  Will anyone willingly pay for their useless drivel?
According to one study, Michael Jackson's death was the second biggest news story of this century.  It reportedly received more news coverage than the beginning of the Iraq War, 9/11, the global financial meltdown, Hurricane Katrina, the death of Pope John Paul II and the Indonesian Tsunami.
A new poll reveals that despite overwhelming propaganda, about half of all Americans do not believe humans are responsible for climate change.
RFID microchipping is starting to pop up all over the place.
Is America cursed?  The very small wheat harvest this year is disappointing farmers across the state of Illinois.
Critical food and water shortages all over the world are beginning to create huge problems for third world nations.
A pair of Salt Lake City brothers have been arrested and accused of assaulting and urinating on their grandmother.
Lastly, scientists are alarmed by a spike in underground rumblings along a section of California's San Andreas Fault that produced a massive earthquake in 1857.  Let us hope that the "big one" where part of California falls into the sea is not coming soon.