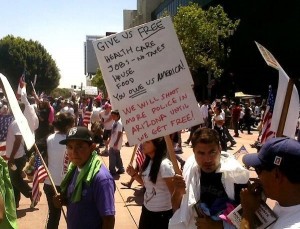 The most important news for Wednesday, July 7th, 2010….
The Obama administration filed its long-anticipated legal challenge to the controversial new Arizona immigration law on Tuesday.
According to one new study, illegal immigration is costing the United States a staggering $113 billion a year.
The U.S. Border Patrol says two groups of seafaring illegal immigrants have been caught coming ashore along Southern California's coast — including 18 people who landed at the Marine Corps' Camp Pendleton.
Police in Ecuador have seized a 100-foot submarine being built by suspected drug traffickers capable of carrying a crew of six and 10 tons of cocaine on underwater voyages lasting up to 10 days.
Stressing the unbreakable ties between their nations, on Tuesday Barack Obama and Israeli Prime Minister Benjamin Netanyahu both called for direct talks between Israel and the Palestinians while agreeing that efforts to isolate Iran over its nuclear ambitions are necessary.
The "European Campaign to Break the Gaza Siege" – an organization based in Brussels – has announced that an "aid flotilla for Gaza" is being prepared to embark within the next two weeks, and that it will include 7 boats and 9,000 participants.
Turkey is once again demanding an apology from Israel, but Israel says that it is not going to happen.
Syrian President Bashar Assad says that "the prospect of war" in the Middle East is growing.
Are millions of U.S. taxpayer dollars being used to buy well-connected Afghans posh villas in Dubai?
According to one new report, Israel's coastal gas facilities are a very tempting target for terrorist groups like Hezbollah.
Oil from the massive BP oil spill in the Gulf of Mexico is now absolutely drenching beaches all along the coasts of Louisiana, Mississippi, Alabama and Florida.
CBS News is reporting that the oil spill in the Gulf is hurting businesses "from coast to coast".
It turns out that the "relief wells" that BP is drilling are not an automatic "slam dunk" solution to the oil spill crisis either.
A marine biologist working with a group of environmentalists to save sea turtles claims that the U.S. Coast Guard is involved in spraying a toxic chemical dispersant over the Gulf of Mexico – and he says it has already traveled inland.
Is some form of "acid rain" now falling in the state of Texas?
One prominent trader says that the Dow Jones Industrial Average is repeating a pattern that appeared just before financial markets fell during the Great Depression.
The U.S. Postal Service has proposed a 2 cent increase in the price of a first-class stamp, bringing the cost to 46 cents. The change, if approved, will go into effect on January 2nd.
It is being reported that the U.K. is drafting contingency plans should beleaguered energy giant BP collapse.
Could the collapse of BP bring about absolute chaos on world financial markets?
Economist Nouriel Roubini recently told CNBC that European governments face the quandary of being unable to afford to bail out banks that are still considered too big to fail.
As the U.S. economy implodes, global corporations are investing massive amounts of money to expand operations in communist China.
Kenneth Rogoff, Harvard University professor and former chief economist of the International Monetary Fund, says that China's property market is beginning a "collapse" that will seriously impact the nation's banking system.
A study released this year by SpiderLabs, a part of the data-security consulting company Trustwave, found that 38 percent of the credit card hacking cases last year involved the hotel industry.
Are the CIA and the government of Pakistan engaged in "aggressive spy battles"?
Are "the lights going out" for free speech on the Internet?
A revolt among big donors on Wall Street is hurting fundraising for the Democrats' two congressional campaign committees, with contributions from the world's financial capital down 65 percent from two years ago.
Are we witnessing the rise of a "global scientific dictatorship"?
Poland's cooperative BPS bank says it's the first in Europe to install a biometric ATM – allowing customers to withdraw cash simply with the touch of a fingertip.
Could we be headed for another H1N1 pandemic?
Blistering heat is causing huge problems in cities across the east coast of the United States.
Muslim organizations in Indonesia have declared their intention to establish paramilitary units in local mosques to oppose "ongoing attempts to convert people to Christianity".
What some Christians endure to get the gospel into North Korea is absolutely amazing.
This week's General Assembly of the Presbyterian Church (U.S.A.) will consider redefining marriage to include same-sex couples and allowing ministers to perform same-sex weddings.
It is being reported that the Church of England may be on the verge of promoting a gay priest to bishop.
Jerusalem District Police have backpedaled and have now granted authorization to a gay pride parade, to be held in the city at the end of the month, which will conclude at the Knesset building as per the request of its organizers.
Lastly, NASA Administrator Charles Bolden said in a recent interview that his "foremost" mission as the head of America's space exploration agency is to improve relations with the Muslim world.