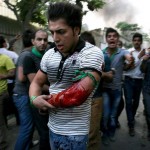 The most important news for Monday, June 22nd, 2009.....
The political protests in Iran seem to be getting even more violent as the Iranian authorities try to crack down on the demonstrators.
North Korea is promising to "hit" the United States if they are provoked.
A North Korean ship shadowed by an American Navy destroyer is heading toward Myanmar and American officials believe it may be carrying prohibited materials.  North Korea says that they will consider it an "act of war" if the U.S. intercepts the ship.
A number of U.S. politicians are now speaking out in concern over Barack Obama's plan to give the Federal Reserve ultimate power over the U.S. economy.
Did you know that some religious authorities over in Israel are trying to develop a plan for the Jews and Muslims to "share" the Temple Mount?
Ron Paul is hopping mad about Barack Obama's plan to give the Federal Reserve massive power over the entire U.S. economy.
A Christian man in Pakistan was recently brutally raped and murdered because he refused to renounce Christianity and the world media virtually ignored it.
Once again, an official government report has been uncovered that labels large groups of American citizens as terrorists.
This is 2009, and yet segregated proms are still being held in parts of Georgia at the insistence of racist parents.
Just like Japan, New Zealand is also moving rapidly towards a cashless society.
New FTC guidelines would allow the U.S. government to target any blog that is making "false claims".  So who is going to decide what "false claims" are?
Over 120 religious leaders from around the world held their own not-so-mini "G8 summit" in Italy on June 16th and 17th.
A new film entitled "Antichrist" which features scenes of extreme torture and pornography will be released in British movie theaters next month.
A 5-year-old child has died from the bird flu in Indonesia.
According to the World Health Organization, 95 countries have officially reported swine flu cases, and there are now at least 44,287 cases of A/H1N1 flu around the world, including 180 deaths.
Marc Faber, the editor and publisher of the Gloom, Boom & Doom Report says that the United States is headed for hyperinflation.
Why is hardly anyone paying attention to the horrific humanitarian crisis in southern Sudan?
Gay couples traveling overseas from the United States can now show passports that feature their married names.
Lastly, NASA is preparing to bomb the moon.  Seriously.
Comments
comments