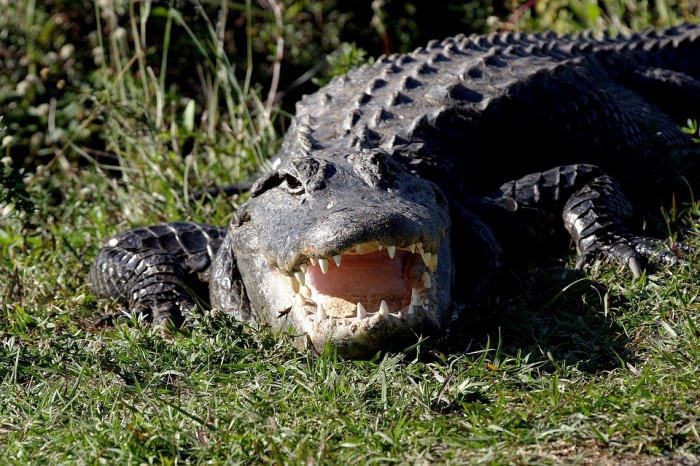 Does it seem like animal attacks on humans are increasing in frequency and intensity? You may want to reserve judgment until you have read the rest of this article. All over the world lately there have been very disturbing news stories about the beasts of the earth becoming extremely aggressive and attacking humans. At first I ignored these stories, but something happened last night that made me change my mind. My wife and I were getting ready to head for bed when I decided to check the news one last time. I was absolutely stunned to see that a large alligator had grabbed a 2-year-old boy from Nebraska while he was playing in about a foot of water near a Disney resort down in Florida. This happened right in front of his parents, and his father desperately tried to pull the boy away from the gator but he was unable to. Authorities searched all night for the young child, and on Wednesday afternoon the worst case scenario was confirmed…
Florida authorities have found a body believed to be that of a 2-year-old boy who was dragged off by an alligator Tuesday night at Disney resort.

The Nebraska toddler was playing in the water on a beach area near Disney's Grand Floridian Resort & Spa at around 9:16 p.m. Tuesday when the alligator snatched him and pulled him underwater in front of his horrified parents, authorities said. The father tried to get his son back, but wasn't able to, Orange County Sheriff Jerry Demings said.

Demings said the boy's body was spotted at about 1:45 p.m. ET Wednesday, and fully recovered at about 3:30 p.m.
But what most people don't realize is that alligator attacks of this nature are actually extremely rare. According to CNN, "the odds of being seriously injured in a random alligator attack" are approximately "one in 2.4 million"…
Especially out of the water, alligators are not interested in prey they can't easily overpower, and in natural circumstances, they usually avoid humans. The Florida Fish and Wildlife Conservation Commission puts the odds of being seriously injured in a random alligator attack at one in 2.4 million.
So was this just a freak accident or is something else at play here?
Reading that story reminded me of another animal attack story that I had come across just a few days earlier. Normally bears are not inclined to attack humans unless threatened, but there was one bear in Japan that recently "developed a taste for human flesh" and started mauling people…
The body of a fourth victim suspected of being killed by a bear that's 'developed a taste for human flesh' in the past three weeks was found in a forest in northern Japan on Friday, reports said.

The badly mauled corpse has yet to be identified, but police in Akita prefecture were searching for a 74-year-old woman named as Tsuwa Suzuki, who was reported missing a day earlier, according to local media.

Hunters killed a bear just 10 metres (32 feet) from the spot where the woman's remains were discovered in a mountain forest in Kazuno city, in Akita, although it remained unclear if she was killed by that animal, reports said.
I also remembered reading that shark attacks are on the rise globally, and down in Texas one five-year-old girl is extremely fortunate to be alive today after being viciously assaulted by a shark while swimming at Pirates Beach on Galveston Island…
A five-year-old girl was bitten by a shark while swimming off the coast of Texas, authorities said Tuesday.

The child, who has not been identified, was attacked at Pirates Beach on Galveston Island and suffered 'significant tissue damage to her leg', according to Galveston County Health District EMS.

Beach-goers quick thinking helped to save the girl's leg after they used a dog leash as a tourniquet to stop the bleeding.

'That tourniquet… definitely made an impact on this little girl's condition,' Nathan Jung, Galveston County Health District EMS Administrator, told ABC 13.
And of course this was not just an isolated incident. According to LiveScience, more shark attacks were reported worldwide last year than ever before…
Shark attacks have dominated Australian headlines during the past week, with two fatalities occurring just a few days apart in waters near Perth.

Those attacks may not be just a coincidence or bad luck: Shark attacks have been on the rise, with more attacks reported worldwide last year than in any other year on record, according to an annual survey.
So that would seem to be at least some hard scientific evidence that the beasts of the earth are starting to become more aggressive.
I also came across this story from India about lions that were recently discovered to be attacking and eating people…
Gujarat's Forest department has identified three lions for killings of three persons in separate incidents in Gir forest. Among the total 17 lions captured by the forest officials to identify "man-eaters," three have been identified and will be sent to zoo in Junagadh.

"Out of the 17 lions captured by us last month, one was a male adult, and it turned out to be the main culprit. We found considerable amount of human remains in that lion's faeces, while very small amount was found from the faeces of two sub-adult females," said chief conservator of forest (wildlife) Junagadh range A.P. Singh.
Of course this story is just an anecdotal example, but it is definitely creepy.
Another very creepy story of this nature comes from India as well. It turns out that not too long ago a camel that had been left out in the heat all day "severed its owner's head"…
In Rajasthan's Barmer district, an agitated camel reportedly severed its owner's head, after being left in the heat all day with its legs tied.

After the incident, which took place on Saturday, villagers say they had to struggle for around six hours to get control of the animal. According to a Times of India report, the owner from Mangta village was busy catering to guests on Saturday night and forgot that his camel was kept out in the heat all day. When he finally went to untie the camel, the animal attacked him.
Yes, it is true that all throughout history animals have attacked humans.
So that is nothing new.
But it is also true that shark attacks on humans reached a new all-time high last year, and many of these other animals are acting in ways that are clearly outside of the norms.
I certainly don't have all the answers, but I don't think that it is wrong to start raising some questions.
Are the beasts of the earth starting to become more aggressive?
If so, what may be causing that?
Please feel free to tell us what you think by posting a comment below…
*About the author: Michael Snyder is the founder and publisher of End Of The American Dream. Michael's controversial new book about Bible prophecy entitled "The Rapture Verdict" is available in paperback and for the Kindle on Amazon.com.*