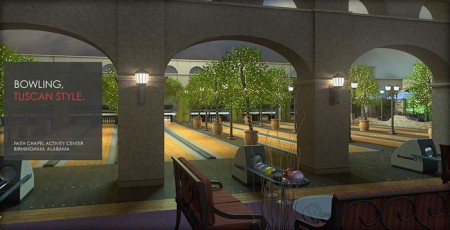 A megachurch in Alabama recently held an open house to celebrate the opening of its $26 million dollar, six-dome entertainment center, which some are stating is far from biblical Christianity and the example of the early Church.
Faith Chapel Christian Center in Wylam, near Birmingham, completed the project on it 137-acre campus last year, all of which was funded by the tithes and offerings of its more than 6,400 members. The facility is located in a depressed area where a number of residents are low-income.
"We believe we can really meet the needs of the community," leader Michael Moore, author of the book Rich is Not a Bad Word, told AL.com. "It will bridge people from the world to the Kingdom."
According to reports, the facility features—among other amenities—a 12-lane bowling alley, a basketball court, a fitness center, a banquet hall and cafe, a teen dance club, and an adult alcohol and smoke-free night club.
(Read the rest of the story here…)