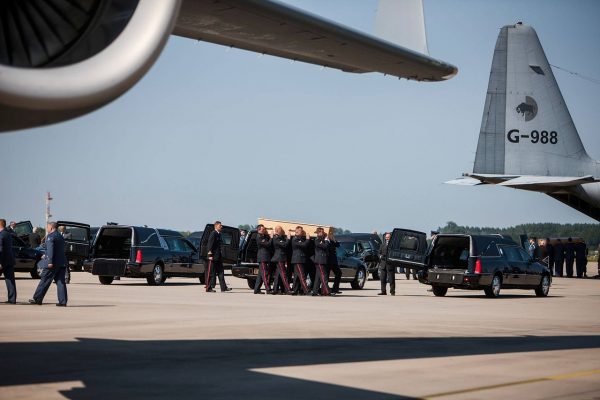 I encourage all of you to read this vision.  In recent weeks, my wife and I have felt such an urgency to share the warning messages that God has been giving to His servants all over the world.  One of those servants in Carla Smith.  She is a wonderful sister in the Lord, and she has been such a blessing to so many people for a very long time.  I would encourage you to follow her on Facebook right here.
Earlier this month, she received a very ominous vision.  She saw a large wooden casket inside a hearse being sealed, and she also heard these words: "America's fate is sealed"…
---
The morning of June 3,  after waking up, I was pondering getting my day started when I was given a vision …
I saw a hearse parked with the back door opened … looking closely at the inside (I was standing right beside the open door) observing closely, I saw a large wooden casket … The casket, as in live motion started sealing itself closed, very tightly … no person was touching the casket … then the door to the hearse was closed … the day looked dreary and heavy … I then ask the Lord, why am I seeing this casket in the hearse sealing itself shut … I then turned on my side and closed my eyes and the vision continued  … I saw the hearse driving slowly down the road with MANY cars following in the funeral precession … every single car had the American flag draped OVER them … I heard "America's fate is sealed" … end of vision.
Thank You Lord for this vision.
I feel this was/is a very sobering vision, one that made me understand clearly that judgment(s) are coming to our nation … judgment that will not be changed by prayer.
Our most important prayer should be for Wisdom and for our lost family and friends.
About the Author: Blessings in the Lord… Just a little about me… I was born again at age 13 and then later rededicated my life in 1983, just before my daughter was born… I met my husband while serving in the US Army at Fort Hood, TX, We married in 1982 and my husband retired out of the Army after 21 yrs. We have 2 beautiful daughters and 5 grandchildren and feel blessed beyond words. The Lord blessed me with prophetic gifts early in my life and then in Aug of 2015, I started receiving prophetic words from the Lord one after the other. I waited upon the Lord to let me know what He wanted me to do as far as sharing His words … He led me to start this blog, to Him be all the glory! May the Lord Yeshua (Jesus) richly bless you in all your endeavors… Shalom, Carla