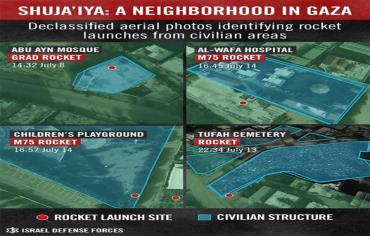 Security Cabinet members said Thursday that the IDF may need to re-conquer all or part of Gaza to ensure Hamas does not continue to attack Israel.
Communications Minister Gilad Erdan said during a visit to Ashkelon Monday that the IDF must continue fighting until it ensures long-term calm.
"We cannot stop the operation while it is still unclear whether the Gaza Strip will be demilitarized or not. If that means the IDF needs to stay in the northern Gaza Strip to ensure quiet, then we will have to reconquer the area near its northern border," Erdan said.
The cabinet member added that he hopes there will not be a ceasefire in the coming days, until the threat of terror tunnels, with which Israel cannot live, is removed.
(Read the rest of the story here…)
The IDF on Monday released declassified photos showing how Hamas uses hospitals, mosques, and playgrounds as rocket launch sites.
The images were taken from the northeastern Gaza City neighborhood of Shejaia, which was the scene of heavy fighting in recent days.
Israel's army said it had been targeting militants in the clashes, charging that they had fired rockets from Shejaia and built tunnels and command centers there. The army said it had warned civilians to leave two days earlier.
Sounds of explosions rocked Gaza City through the morning, with residents reporting heavy fighting in Shejaia and the adjacent Zeitoun neighborhood. Locals also said there was heavy shelling in Beit Hanoun, in the northern Gaza Strip.
(Read the rest of the story here…)