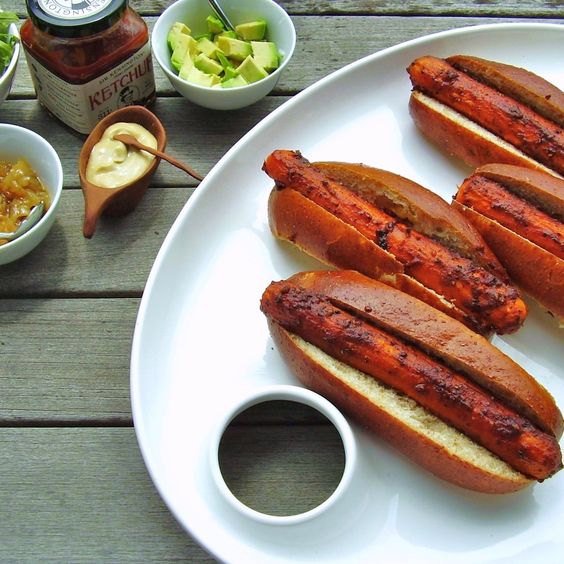 At a Memorial Day cookout, there is nothing quite as satisfying as a thick, juicy carrot dog.  Okay, maybe not, but for vegans and vegetarians these are becoming increasingly popular alternatives to hot dogs and hamburgers.  I have never had one (and don't plan to any time soon), and so I can't tell you how they taste.  But my guess is that they taste horrible.  According to mysanantonio.com, these are the ingredients that you will need if you want to make some…
6 very large carrots (see headnote)

1 teaspoon toasted sesame oil

1/2 teaspoon kosher salt

1/4 teaspoon freshly cracked black pepper
And for those that are interested, these are the directions for preparation…
Position a rack as close as possible to your oven's broiler element or flame; preheat the broiler. Line a baking sheet (preferably a small one so the carrots fit snugly on it for easier turning) with aluminum foil.

Arrange the carrots on the baking sheet; broil until charred, giving them a quarter-turn every 5 minutes or so, for a total of about 20 minutes. Once they are blackened all over, remove them from the baking sheet and wrap them tightly in aluminum foil. (Alternatively, you can char them on a grill.)

Allow them to rest (wrapped) for 15 minutes, during which time they will finish cooking and will become infused with smoky flavor. Unwrap them, and once they are cool enough to handle, pull the charred exterior off each carrot just like you would for a roasted red pepper. (Do not rinse.) Drizzle the carrots with the toasted sesame oil, and season with the salt and pepper.
Just please don't let my wife know about carrot dogs – she just might want me to make them the next time I fire up the grill…