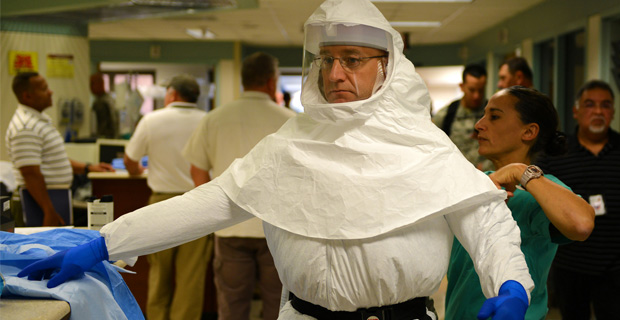 Ebola continues to spread wildly in Sierra Leone as experts project that virtually all major cities in the United States will face imported cases of Ebola amid the failed response of the CDC. The nightly news says the story on the disease is 'closed,' but medical doctors around the country happen to disagree — and overwhelmingly so. In fact, medical professionals are now speaking out privately and publicly about the 'cover up' of potential Ebola cases that they say may end up with their careers on the line.
It was back in October when I shared a story regarding some extremely powerful information that one of my medical doctors contacts stationed in Dallas had shared with me. The CDC, this individual said, was coming into hospitals and visiting patients who were reported to have 'signs of malaria'. What's much more disturbing, however, is that the CDC was reportedly 'disappearing' these patients — even going as far as to remove their actual records from the hospital database.
Surely a serious claim, and one that I had shared with the audience hoping that we could simply find an alternative answer to these disappearances. At least one that did not revolve around the cover up of a serious Ebola outbreak within our borders. It was hard to ignore, though, with even former Border Patrol agents speaking out over sightings of the CDC coming in and 'snatching up' individuals with flu-like symptoms.
What happened next, however, solidified the message of my Dallas contact in a very real way.
It was then, after sharing this story on air, that the brave Dr. James Lawrenzi called into the program and said that he had also witnessed similar circumstances: even going as far as to mention other key elements that I had not yet mentioned on air while conveying my report. In his experience and statement, Dr. Lawrenzi discussed how medical professionals from the CDC were in fact looking at these cases of 'malaria' in a very strange way. Especially when these 'malaria' cases exhibited symptoms that typically coincide with an Ebola infection.
Lawrenzi independently verified additional claims by doctors who we have personally spoken to regarding the state of unpreparedness within these institutions to handle even a single case of Ebola, the rapidly declining moral of medical staff who continually threaten to quit their jobs in the event of an Ebola patient being taken under care of the hospital, and the complete lack of concern from the CDC when it comes to medical doctors relaying these concerns to the agency.
(Read the rest of the story here…)