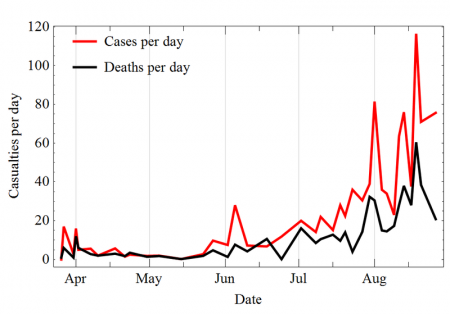 A man infected with Ebola traveled to Senegal, bringing to the country the first confirmed case of the dreaded disease that has hit four other West African nations and killed more than 1,500 people, the Ministry of Health said Friday.
The infected person, a university student from Guinea, sought treatment at a hospital in Senegal's capital, Dakar, on Tuesday but gave no indication he might have Ebola, Health Minister Awa Marie Coll Seck told reporters. The next day, an epidemiological surveillance team in Guinea alerted Senegalese authorities that they had lost track of a person who had had contact with sick people. The team said that the person disappeared three weeks ago and may have come to Senegal.
The student was tracked to the hospital in Dakar that same day and was immediately quarantined, Seck said.
A test has confirmed that he has Ebola, and the World Health Organization has been alerted.

Watch more news videos | Latest from the US
(Read the rest of the story here…)
The Ebola outbreak "continues to accelerate" in West Africa and has killed 1,552 people, the World Health Organization said Thursday.
The total number of cases stands at 3,069, with 40% occurring in the past three weeks. "However, most cases are concentrated in only a few localities," the WHO said.
The outbreak has been centered in Guinea, Sierra Leone and Liberia, with a handful of cases in Nigeria.
The overall fatality rate is 52%, the WHO said, ranging from 42% in Sierra Leone to 66% in Guinea.
(Read the rest of the story here…)