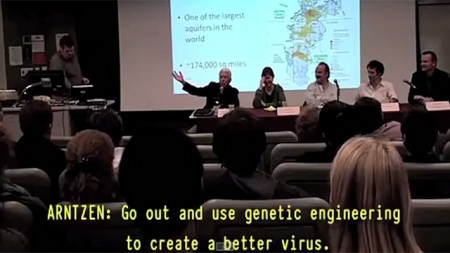 Truth Stream Media (with Aaron Dykes and Melissa Melton) carried a bombshell story a few weeks ago that suddenly makes even more sense with recent Ebola revelations. The story is entitled Edible Vaccine Inventor Jokes about Culling Population with GMO Virus and it carries a video, shown below, of Dr. Charles Arntzen, head of The Biodesign Institute for Infectious Diseases and Vaccinology, answering a question about how to kill off billions of humans in a depopulation scheme.
From the audience, Dr. Jason Robert asks him:
Should there be 8 billion people in this world? Is there a limit on the number of people our planet can sustain? How do we go about this lightly? …And should we concern ourselves with feeding 8 billion people in the first place or should we natural forces of carrying capacity to effect or limit population growth?
In response, Dr. Arntzen, developer of an Ebola vaccine tested on mice, says:
Has anybody seen "Contagion?" (laughter) That's the answer! Go out and use genetic engineering to create a better virus. (laughter) Twenty-five percent of the population is supposed to go in "Contagion."
(Read the rest of the story here…)