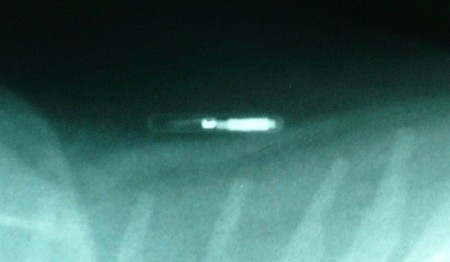 You can inject one under your skin and no one will ever notice. Using short-range radio frequency identification (RFID) signals, it can transmit your identity as you pass through a security checkpoint or walk into a football stadium. It can help you buy groceries at Wal-Mart. In a worst-case scenario – if you are kidnapped in a foreign country, for example – it could save your life.
Microchip implants like the ones pet owners use to track their dogs and cats could become commonplace in humans in the next decade. Experts are divided on whether they're appropriate for people, but the implants could offer several advantages. For soldiers and journalists in war zones, an implant could be the difference between life and death. A tracker could also help law enforcement quickly locate a kidnapped child.
"In the long run, chip implants could make it less intrusive than some emerging ID systems which rely on physical biometrics (like your fingerprints or unique eye pattern)," says Alex Soojung-Kim Pang, author of the book "Distraction Addiction" and visiting scholar at Stanford's University's Peace Innovation Lab.
(Read the rest of the story here…)