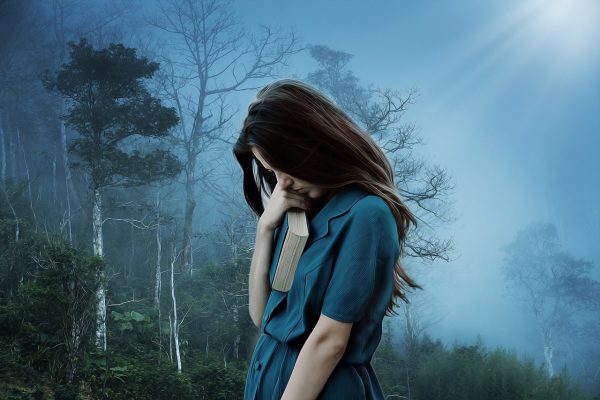 In this day and age, a lot of people are afraid to open up with others because they might get hurt, and that is very understandable.  There are a lot of mean and cruel people out there, and that is even true in the Church.  Katie Troutman recently emailed me a dream and some thoughts about her past, and she is very open about what she has been through in her life.  All of us have scars, and talking about God has brought us through them can be part of the healing process.  Here is what Katie wants to share with us…
---
I woke up twenty three years ago, early on a Sunday morning , from a dream with my alarm clock going off.
I dreamed that I was in a school auditorium. There were large windows that ran the length of one entire wall in the auditorium. The Windows went from floor to almost ceiling.
You could see the entire sky outside.
It was dark and gloomy looking.
The sky was black and purplish.
I was standing on the platform with a microphone in my hand looking out the window. Three funnel clouds, like black tornados were swirling outside.
I started asking people if they wanted to get saved . I led them in a sinners prayer.
After we prayed I started jumping up and down rejoicing and shouting very loudly in the microphone. " The storm can't touch you now ! HALLELUAH! " HALLELUAH!
I said over and over again, "You're safe the storm can't touch you . Praise the Lord ! You are safe from the storm now! HALLELUAH!"
Then I put the microphone by my side and turned to walk off the platform…. in my underwear. I looked at myself embarrassed and I woke up to my alarm wondering why I was in my underwear preaching.
I knew the dream was from God but I could not understand the underwear part.
I was a young mom and had been saved a few years at that point.
I got up and asked , " God, I know that was from you but why was I in my underwear? "
Went on to get the kids ready for church and fed them breakfast, got them dressed and their hair fixed. Then as I had gotten out of the shower and was getting dressed.. I was in front of the mirror and I remembered the dream and thought about it some more puzzled as to why I was naked on stage.
I went to put on my hose and they had a run in them . I had to go a different direction to church that morning so I could stop by the store.
After I left the store and was on the road again.. also running late. I saw a sign in front of a church and it said,
When you are naked before the. LORD. that is when He can use you!
I thought. OH MY GOSH! Thank you Lord for explaining that to me . Now it makes sense.
So, we got into church and had missed praise and worship. We sat down and then the preacher said the same exact thing.
So, I knew God was speaking to me.
At the time I thought it was just a personal dream and I sure had alot to go through and learn at that point.
Years, I definitely would not want to repeat for sure.
I was coming out of a life of abuse and many, many hardships and rough patches lay ahead for us.
Through it all. I learned the lesson of the dream . It took many years to learn but when I did I was put into ministry in a church and was an evangelist in a couple counties. I also wrote for a. Christian. Magazine called Faith and. FAMILY.
I was put on the radio and interviewed concerning my testimony and it all happened basically overnight but after many long years in the. wilderness.
God had to teach me that I am nothing without Him. That what I think or my opinion doesn't really matter. Not in a negative or abusive manner/ way. But in a face to the ground , on my knees. You are God ALONE kind of way.
It's about Him and ONLY HIM. It's not what I want or even what I think I may need in life.
– But for me it was about the hardcore lessons found in the book of Job and the wisdom found in the book of Ecclisiastes.
I was broken, lost everything in my life.
Wounded, had an abuser attempt to kill me.
Cut open from head to toe. I had a severed nerve in my left leg from the cut that left me with no feeling in my leg. I could go on and on at how my life didn't go as you would desire your life to go.
I wanted to die. There were many years of tremendous grief but through it all He was there for me. He was my friend, my very best friend and He was my father. He held me when I had. No one there and he carried me through the fire ! He truly did.
I learned the lesson of My dream right before the storms rolled in. Right before it was time to learn that we live in the end of times.
I learned to be open. He is glorified in an open book. When you admit you are nothing and He is everything.
When you don't try to hide and act like you're perfect because you're in ministry but just the opposite. You are open and naked before Him and all the people you encounter so that He can use you because you have no pride because you know you're nothing without Him. He gives me breath but I am mere dust.
It's an agenda for Him for one purpose and that's saving souls from Hell. Healing the sick, delivering tormented people and declaring the name that is above EVERY name… JESUS!
I realized that this dream is important to share because there are lots of hurting people in the world that need HOPE.
HOPE for what's to come but also for right now.
Lots of people put a smile on their face and hide the tears and pain behind it.
The people God showed me in that dream all those years ago were desperate for him because a huge storm was brewing outside and they wanted safety.
We need safety from the storm that's coming and it's only found in JESUS CHRIST.
He is the way the truth and the Life.
He will protect us even in our suffering.
He will be there right beside us because He is a friend who sticks closer than a brother. Amen! He is our rock and our MIGHTY FORTRESS IN WHOM WE TRUST!
NO WEAPON FORMED AGAINST US SHALL PROSPER AND EVERY TOUNGE THAT RISES AGAINST US THOUGH SHALL CONDEMN FOR THIS IS THE HERITAGE OF THE SERVANTS OF THE LORD.
WE HAVE THE POWER TO SPEAK TO THE STORM, BE STILL. REMEMBER THAT. YOU HAVE THE POWER TO SPEAK THISE THINGS THAT ARE NOT AS THOUGH THEY ARE.
HE IS OUR ASSURANCE, OUR HOPE AND HE IS OUR JOY.
HE IS THE KING OF GLORY!
I want to tell you that the storm can't touch you if you are saved and washed in His blood.
We May suffer for a night but His joy comes in the morning.
No matter where you are or what you are going through just love Him and SEEK to live a holy life that is pleasing to him. Just talk to Him about everything and create a new habit in your life.
Draw close to HIM. For He is a rewarder of those who diligently SEEK Him!
Stand naked before him. No holes barred, just as you are and come to a loving father who knows your sins and wants to heal and deliver you from each one.
There IS nothing that can separate you from His love and care .
The storm can't touch us now!!
HALLELUAH to the lamb of God who takes away the sins of the world.
In His Love,
Katie