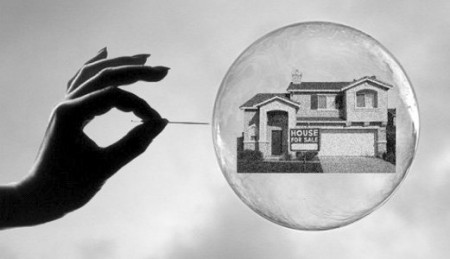 This is precisely what shouldn't have happened but was destined to happen: Sales of existing homes have gotten clobbered since last fall. At first, the Fiscal Cliff and the threat of a US government default – remember those zany times? – were blamed, then polar vortices were blamed even while home sales in California, where the weather had been gorgeous all winter, plunged more than elsewhere.
Then it spread to new-home sales: in April, they dropped 4.7% from a year ago, after March's year-over-year decline of 4.9%, and February's 2.8%. Not a good sign: the April hit was worse than February's, when it was the weather's fault. Yet April should be the busiest month of the year (excellent brief video by Lee Adler on this debacle).
We have already seen that in some markets, in California for example, sales have collapsed at the lower two-thirds of the price range, with the upper third thriving. People who earn median incomes are increasingly priced out of the market, and many potential first-time buyers have little chance of getting in. In San Diego, for example, sales of homes below $200,000 plunged 46% while the upper end is doing just fine.
(Read the rest of the story here…)