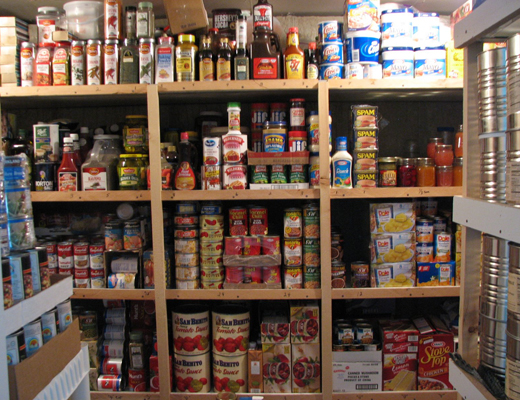 If you've been paying attention to the news lately, you may be feeling on edge.  You may feel as though time is running out for you to get your preparedness supplies in order. You may be new to prepping, and feeling like there's too much to accomplish.  The stress in our country is at peak levels, as we watch the bumbling efforts of officials to contain the spread of Ebola, as the war drums beat louder, as riots break out again in an American city, as the economy freefalls, and as a terrorist group declares Jihad on anyone who doesn't share their religious beliefs.
This feeling of urgency can make you feel hopeless and panicked, and that's not productive.  There's no time for a lack of productivity. It's time to focus and create your food supply…fast. If an event occurs during which you are unable to leave your home, you want to make certain that you can do this without assistance. Such an event could be a mandatory quarantine, self-imposed isolation due to a pandemic, civil unrest in your town, martial law, or even a terrible storm that leaves you stranded, with no access to the store.
Generally I write about healthy food. I write about focusing on whole foods without additives, and I firmly believe that is the very best way to build your food supply.  I believe strongly in the value of a pantry that you will use day to day to nourish your family.  You can learn how to build a pantry like that in this article that recounts building our own food stockpile from the beginning, and the book The Pantry Primer: How to Build a One Year Food Supply in Three Months
However, if you do not have a food supply waiting in your pantry, now is the time to focus on creating an emergency stockpile quickly.  You can then add healthier options at your leisure. The quantities in this article are per person, so you'll need to multiply this by the number of people in your home. You can order these items online and get them to your door within a couple of days.
Alternatively, you can shop around and try to find duplicates locally. You can also create a food plan, make a list, and go shopping, purchasing the highest quality items available, and repackaging them for longer shelf life.
However you opt to build your food supply, please don't hesitate. If a worst case scenario occurred, the goal is to be able to feed your family for at least a month.
How much do you need?
There are a few different ways to calculate food storage, but I find breaking it down by serving size to be the most practical. Don't rely on what a package calls a serving size – consider the appetites of your family. You might have a couple of big eaters and a couple of people with birdlike appetites. The lists below are based on serving sizes for an average adult.
Be sure to get a variety of different foods:
3 protein servings
5-8 fruits and vegetables
5 starchy carbohydrates
On a 2000 calorie per day diet, strictly based on long-term storage food, the LDS (Church of the Latter Day Saints) says the average adult would need:
5 pounds of beans
25 pounds of grains
5 pounds of sugars
2 pounds of fats
8 pounds of dairy
These are purely subjective numbers, however.  For example, if your family is gluten-free, you might eat more protein and produce than starchy carbs.  You must take into account your family's health concerns, special needs, allergies, intolerances, likes, and dislikes.   These are simply guidelines. Try to stick as close to your normal eating habits as possible, to lessen the stress of an already highly-wrought situation.
It's also important to consider cooking times. If you never ever cook from scratch, will you suddenly want to make pots of beans and homemade bread? If the power goes out, will you have a way that you'll be able to cook these foods?
Create a stockpile with emergency food kits
If you're trying to build a food supply quickly, consider ordering a kit with a month's supply of meals in it.  These aren't going to be the healthiest or tastiest meals, but they'll stand between you and starvation.
You may look at the prices of these items and say, "Oh, I can't afford this." But you have to remember, this is enough food for an ENTIRE MONTH.  At $150, that means you're spending only $3 per day on food.  It honestly doesn't get much cheaper than that.  There's a variety of price points below, with the pros and cons of each.
You'll notice on the list of extras that I recommended a gentle laxative. Some people, when dependent solely upon MREs or dehydrated foods, become constipated.  I also recommended a high-quality multivitamin to help ensure you're getting the nutrition you need.
The Augason Farms 30 Day Food Emergency Disaster Bucket
 contains 90 meals for one person. That's 3 meals a day for a month. The daily caloric allotment is about 1850 calories, and the meals are "just add water", so to prepare them, you only need the ability to boil water – this could come in very handy during a grid-down situation. This is about $90, including the shipping. The kit contains:
Instant Potatoes (30 servings)
Macaroni & Cheese (30 servings)
Creamy Potato Soup (30 servings)
Cheesy Broccoli Rice (30 servings)
Creamy Chicken Rice (30 servings)
Hearty Vegetable Blend (30 servings)
Maple Brown Sugar Oatmeal (40 servings)
Morning Moo's Low Fat Milk Alternative (80 servings)
The Chef's Banquet kit
 also contains 3 meals per day for a month.  It's a little bit more expensive at $126, including shipping, but it doesn't contain any High Fructose Corn Syrup or MSG, making it a higher quality choice. This is also a "just add water" menu, but there isn't a lot of variety:
Oatmeal – 60 Servings
Hearty Potato Soup – 60 Servings
Chicken Vegetable Stew – 30 Servings
Mixed Vegetables – 

30 Servings

Instant Potatoes – 60 Servings
Pasta – 30 Servings (includes 30 Servings of Cheddar Cheese Sauce)
Beef Flavored Vegetable Stew –
30 Servings Cheddar Broccoli Rice – 30 Servings
Relief Foods Premium 1 Month Emergency Food Supply
 seems to offer the most bang for your buck. At $166, including shipping, this bucket contains 150 meals that are guaranteed to be GMO and MSG free. There's more variety in this menu, but oddly, no breakfast-specific offerings. I wouldn't be deterred by that, though, because breakfast is easily taken care of with powdered milk and dry cereal or oatmeal.
Italian Pasta Marinara -18 Servings
Rice Pilaf – 12 Servings
Pasta Alfredo – 18 Servings
Stroganoff – 12 Servings
Enchilada Beans and Rice – 12 Servings
Cheese and Broccoli Bake – 12 Servings
Macaroni & Cheese – 18 Servings
Classic Chili Mix – 12 Servings
Creamy Potato Soup – 12 Servings
Corn Chowder Soup – 12 Servings
Cheddar Broccoli Soup – 12 Servings
From the same company is the Relief Foods Gluten Free Emergency Food Supply Bucket .  This is certified to be free of gluten, MSG, and GMOs. It only contains 100 servings, some of which are not meals. This bucket costs $112, including shipping.
Enchilada Beans and Rice – 18 Servings
Cheese and Broccoli Bake – 12 Servings
Classic Chili Mix – 18 Servings
Creamy Potato Soup – 12 Servings
Corn Chowder Soup – 6 Servings
Cheddar Broccoli Soup – 6 Servings
Orange Drink Mix – 8 Servings
Powdered Milk – 8 Servings
Oatmeal with Brown Sugar – 12 Servings
If you happen to have an LDS cannery or self-reliance store in your area, you've got a great resource.  You can also order supplies online.  These #10 cans are sealed and will last for 10 years or longer.
A 28 pound starter kit contains wheat berries, oats, rice, beans, and flour for only $33.50.  The downside to this is that most of the foods require extensive cooking times and would make for quite bland eating if you relied solely on this.
Add some variety and nutrition
If it's in the budget, adding some fruits, vegetables, desserts, and dry milk can go a long way towards fighting food fatigue.
Freeze Dried Vegetable Variety
: 160 servings for $67
Lindon Farms Mixed Freeze Dried Fruits
: 150 servings for $108
Emergency Food Supply Whey Milk
: 250 servings for $75
Steel Cut Oats: 4 pound can for $16
Instant Vanilla Pudding
: 68 oz. for $25
Alpine Aire Gourmet Reserves Apple Almond Crisp: 4 pound can for $23
Chocolate Fudge Brownie Mix
: Just add water, 45 servings for $16
Organic Multi Vitamin
: 60 tablets for $25
Nature's Secret Soothing Coconut and Aloe Natural Laxative, 60 Count
: 60 count for $15
Don't forget to add an assortment of spices and condiments to make your emergency meals tastier.
You don't have to be a prepper to build a 30-day food supply.
Up until recently, preppers have had something of a bad name in the media. However, as disasters strike America over and over, people are beginning to see the value in the way we do things. It's been proven time and time again that when issues occur, you're completely on your own. To learn more about basic preparedness, go HERE to learn how to get started.
Daisy Luther is a freelance writer and editor.  Her website, The Organic Prepper, offers information on healthy prepping, including premium nutritional choices, general wellness and non-tech solutions. You can follow Daisy on Facebook and Twitter, and you can email her at daisy@theorganicprepper.ca
(Originally posted at The Organic Prepper)