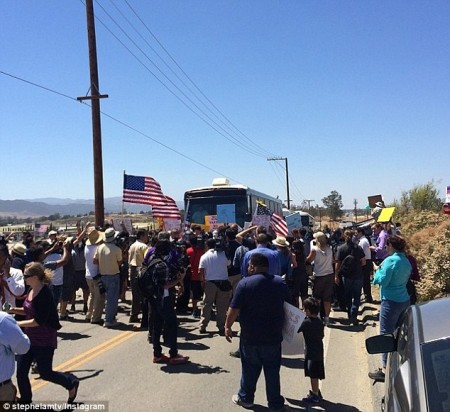 A massive protest scheduled for July 18 and 19 across the United States is aimed at stopping the influx of Central American children flooding across the border, and more than a dozen smaller community protests already have played roles in stopping the children from being brought there.
Citizens in Westminster, Maryland; Oracle, Arizona; Vassar, Michigan; Greece, New York, and many other places have blocked the importation of illegal aliens into their communities through public protests, letters and official resolutions from elected leaders.
*****
But the mother of all protests promises to be Friday and Saturday. It's dubbed the National Day of Protesting Against Immigration Reform, Amnesty & Border Surge, and it's gaining support by the hour, said William Gheen, president of the Americans for Legal Immigration PAC and one of 11 sponsors. The main organizers are Gheen's ALIPAC, James Neighbors of Overpasses For America and Paul Arnold of a new group called Make Them Listen.
"Right now it's looking like we'll have a little more than 300 protest rallies large and small across the country. Our goal is to unify Americans of all races, political parties and walks of life against the Obama-inspired illegal immigrant invasion," Gheen said. "At last count we had 257 communities signed up, but that was two hours ago. We're expecting more than 300 and updating the event list every two hours."
(Read the rest of the story here…)