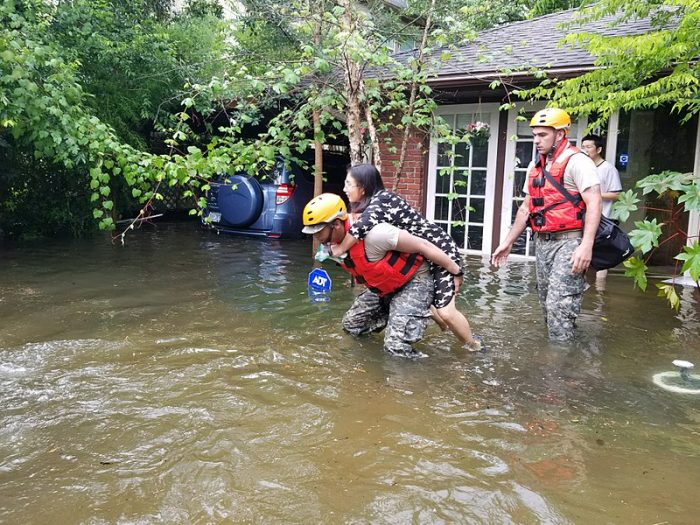 It is now being estimated that the total amount of economic damage caused by Hurricane Harvey will be somewhere in the neighborhood of 190 billion dollars. It is a disaster unlike anything that we have ever seen before in all of U.S. history, and federal officials are already admitting that they are literally going to be dealing with the aftermath of this storm for "years". At this point, more than 100,000 homes have been destroyed, "up to one million vehicles" have been ruined, and many retailers have already been caught engaging in extreme price gouging. But this could be just the beginning, because this storm has already rendered many areas along the Gulf coast "uninhabitable" for an extended period of time, and as you will see at the end of this article another hurricane may be arriving early next month.
What we just witnessed in Houston is being called "a 1,000-year-flood", and many basic necessities are now in extremely short supply. So of course it was inevitable that this would lead to price gouging, and this is reportedly even happening at some of the largest retail chains. For example, at one Best Buy store cases of bottled water were being sold for 42 dollars…
On Friday, a Twitter user shared a picture of cases of bottled water being sold at a Best Buy in Houston. One of the cases was being sold for $42 when it normally retailed for about $15.

A Best Buy spokesman later apologized, saying it was a 'big mistake'.
But that water was quite cheap compared to prices in other parts of the city. According to CNN, one convenience store in Houston was actually charging 20 dollars for a single gallon of gasoline and 99 dollars for a case of bottled water…
Texas officials say they've gotten hundreds of complaints about price gouging and scams in the wake of Hurricane Harvey.

One convenience store in Houston reportedly charged $20 for a gallon of gas, $8.50 for a bottle of water and $99 for a case of water, according to the Texas Attorney General's office.

The state has received 684 complaints in all, according to Kayleigh Lovvorn, a spokeswoman for the office.
It is inexcusable to take advantage of people during a crisis in this way. So many are running low on food, water and other basic supplies, and to try to make a quick profit by engaging in price gouging just isn't right.
In the end, many people are going to have to leave Houston and never look back. To this day some parts of New Orleans still have not recovered from the devastation that Hurricane Katrina caused, and we are facing a similar scenario now with Houston. According to AccuWeather president Joel Myers, it will be "weeks and possibly months" before people can even get back into certain parts of Houston…
Hurricane Harvey could be the costliest natural disaster in U.S. history with a potential price tag of $190 billion, according to a preliminary estimate from private weather firm AccuWeather.

This is equal to the combined cost of Hurricanes Katrina and Sandy, and represents a 1% economic hit to the gross national product, AccuWeather said.

"Parts of Houston, the United States' fourth largest city, will be uninhabitable for weeks and possibly months due to water damage, mold, disease-ridden water and all that will follow this 1,000-year flood," said AccuWeather president Joel Myers.
I don't think that the U.S. population as a whole really grasps what has just taken place.
Large stretches of the 4th-largest city in the United States have been destroyed. Millions that were living comfortable middle class lives have now lost everything that they worked for. Large numbers of people did not have flood insurance, and so they will be leaning on the federal government for assistance. Many did have flood insurance, and a significant number of insurance companies may end up going bankrupt because of all the claims that will be suddenly pouring in. Houston was one of the most important hubs for economic activity in our entire nation, and the economic damage from this crisis will literally stretch on for years.
But despite everything that has happened, many are being very bitter and very cruel on social media and on the comments sections of major news websites. Apparently many on the left do not believe that compassion is appropriate because this storm hit a conservative state like Texas. Not everything has to be politicized, and it has greatly disturbed me to see just how cold many hearts in this nation have become.
And what is truly frightening is that another hurricane is potentially heading toward the Gulf of Mexico. It is still way too early to project exactly if it will make landfall or where, but it is being reported that Hurricane Irma has already become a category 3 storm…
Hurricane Irma continued its rapid power grab Thursday, with wind speeds increasing by more than 55 mph since Wednesday to become a major Cat 3 storm.

In their 5 p.m. advisory, National Hurricane Center forecasters said sustained winds had climbed to 115 mph as the storm headed to the west, northwest at 12 mph. Irma remains in the far east Atlantic, just over 1,700 miles east of the Leeward Islands. Up and down changes in intensity are possible over the next few days, forecasters said, but the storm is expected to remain a major hurricane that could become a Cat 4 storm in four days.
I am proud of how the Trump administration is handling this crisis, and when I win my race for Congress I look forward to working with Trump to make sure that our nation is always prepared to handle this sort of event.
And please keep praying for Houston, because if another major hurricane were to hit that area it would be a nightmare beyond anything that any of us would ever want to imagine.
Michael Snyder is a Republican candidate for Congress in Idaho's First Congressional District, and you can learn how you can get involved in the campaign on his official website. His new book entitled "Living A Life That Really Matters" is available in paperback and for the Kindle on Amazon.com.