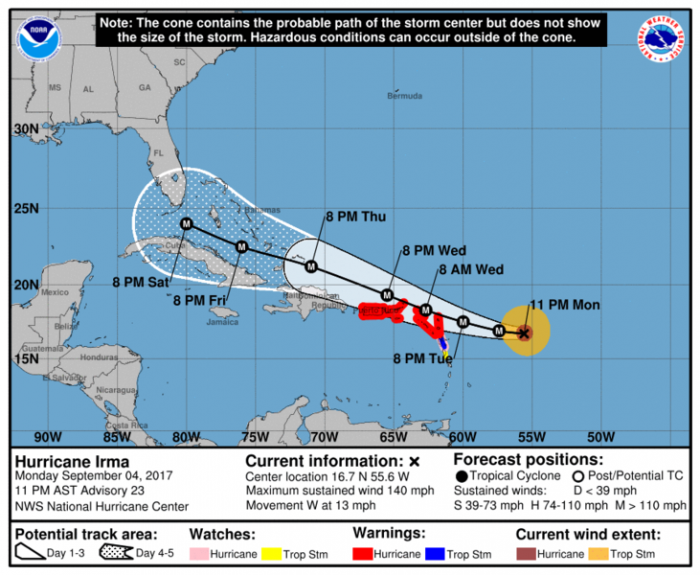 On Monday, Hurricane Irma strengthened into a category 4 hurricane, and some meteorologists are projecting that it will eventually become a category 5 storm before it eventually makes landfall in the United States. And since a "category 6" has not been created yet, category 5 is as high as the scale goes at the moment. Over the past couple of days, the track of the storm has shifted "a lot further to the west", and at this point it appears that Miami is the most likely to take the full force of the hurricane. But as we have seen, trying to forecast the behavior of hurricanes is not an exact science. Irma may never become a category 5 storm, and it may never hit the U.S. at all. Or it may zip past Florida to the south and end up making landfall in the Gulf of Mexico. The truth is that we just don't know.
But for the moment things are not looking good for Florida, and a state of emergency has already been declared for every single county in the state…
On Monday afternoon, Florida Gov. Rick Scott declared a state of emergency for every county in Florida in anticipation of Irma. A state of emergency was also declared in Puerto Rico earlier in the day.

Another scenario still on the table is that Irma curve northward and miss the East Coast entirely. This would still generate large surf and rip currents along the East Coast. However, this scenario is the least likely to occur at this point.
And as I mentioned above, many are projecting that Irma will become a category 5 storm just a few days from now. The following comes from the Express…
Many projections show the category storm strengtheing to a category 5 hurricane, capable of ripping roofs from houses and causing huge waves and storm surges.

Predictions from both the National Environmental Satellite data and Information Service (NESDIS) and international weather forecaster Ventusky suggest though Irma is currently a Category 3 storm by Thursday she is expected to strengthen to a Category 5.

A category 5 storm has winds of more than 157mph – enough to destroy whole buildings and cause devastating flooding.
But just because the experts are telling us that certain scenarios are likely to happen does not mean that they will actually take place.
In the end, it is entirely possible that Florida may not see a single drop of rain. Hurricane Harvey certainly behaved in ways that nobody was expecting, and I have a feeling that the same will be true for Irma.
As Irma inches closer to Florida, "prepping fever" has hit the public. Grocery stores and home improvement chains are already being flooded with traffic, and this is only going to get worse the closer that Irma gets. The following comes from one local news report…
As Hurricane Irma continues to make its way towards a possible strike on the Southeastern U.S., stores in South Florida are beginning to see a rush for supplies.

Several Publix supermarkets were full before noon Monday as residents grabbed water, non-perishable food and other items.
Another local news report noted that essential supplies were already running low at a Home Depot in south Florida…
With Hurricane Irma churning west, many South Florida residents are taking precaution and stocking up on supplies on Labor Day.

A Home Depot in Royal Palm Beach on Monday morning posted a sign that said they were short of some hurricane supplies, including wing nuts, 5-gallon containers for gasoline and 5-gallon jugs of water.
Those that wait until the last minute are going to find that there is nothing left for them. One resident of Palm Beach Gardens told reporters that the local Wal-Mart in her area is already completely out of water…
"There was nothing at Walmart," said Bianca Rodriguez of Palm Beach Gardens. "Not even like one thing of water."
Of course those that have been preparing all along don't have to run out to the store in a panic.
If Irma hits the United States as a category 4 or category 5 storm, it is going to make history.
Meteorologists are telling us that the United States has not been hit by two hurricanes of at least category 4 strength in the same year in more than a century.
And prior to Hurricane Harvey, a hurricane had not made landfall in this country in about 12 years.
There is still a possibility that Irma could miss us completely, but as CNN's Tom Sater has noted, "that window is shutting quickly"…
Computer models show the system moving through the Caribbean, and by the end of week, it will turn right toward the north, said CNN meteorologist and weather anchor Tom Sater.

"There is a small window. If it turns sooner rather than later, we could maybe see the system slide by the East Coast into the ocean, but that window is shutting quickly," Sater said. "It definitely looks like we will be impacted by a major hurricane that is a Category 3, 4 or 5."
If Irma is indeed a category 5 storm when it hits the U.S., it would completely rip coastal communities to shreds.
There haven't been too many category 5 hurricanes to make landfall in modern American history, and a direct strike on Miami would be catastrophic. But if Irma bypasses Florida and ends up hitting New Orleans or Houston, we could be talking about a disaster that is absolutely unprecedented in our history.
Michael Snyder is a Republican candidate for Congress in Idaho's First Congressional District, and you can learn how you can get involved in the campaign on his official website. His new book entitled "Living A Life That Really Matters" is available in paperback and for the Kindle on Amazon.com.