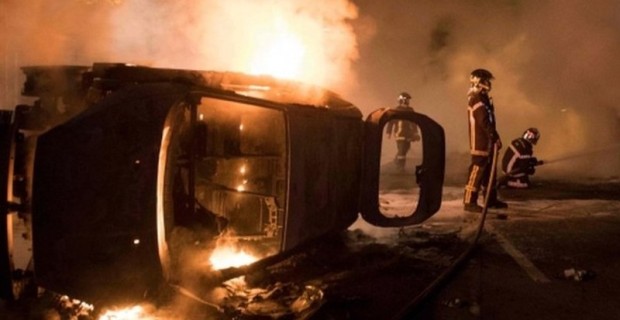 200 riot police were needed to quell chaos in an immigrant suburb of Nantes, France as youths set cars on fire and torched a shopping center.
The riots were sparked by police shooting dead a 22-year-old man, identified by Le Monde as Aboubakar F.
Cars were set ablaze while rioters in Dervallières set fire to the local town hall and house of justice and law.
Meanwhile, in the Breil neighborhood of the city, enraged demonstrators threw molotov cocktails at police and set a shopping center on fire.
Local police chief Jean-Christophe Bertrand later said that the 22-year-old man was shot after he physically attacked police officers after refusing to comply with orders to let them search his vehicle.
Firefighters were able to extinguish the flames by 3am and no arrests were made.
According to the London Times, the riots took place in "a district of housing estates with largely immigrant populations."
France has been rocked by numerous riots down the years as it struggles to integrate migrants who have become ghettoized and ostracized from society. (Prison Planet)