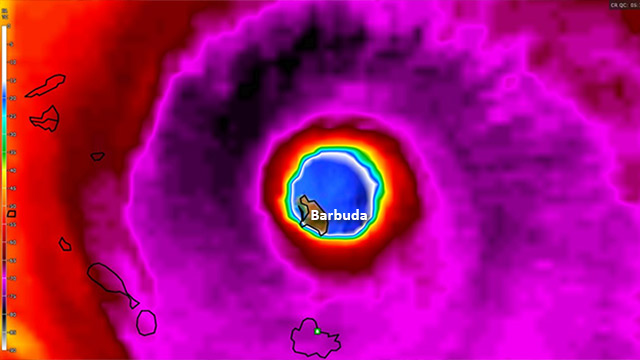 Irma is not just another hurricane – it is a history making storm that is going to cause up to a quarter of a trillion dollars in damage once it makes landfall in the United States. In fact, Miami Beach Mayor Philip Levine used the term "nuclear hurricane" to describe this storm to the media. I would never use that term personally, but I am in agreement that it would be exceedingly difficult to overstate the danger that this storm represents. According to the National Hurricane Center, Irma has been a category 5 storm for more than 50 hours, and that is already one of the longest stretches on record.
Of course if you were to extrapolate the Saffir-Simpson scale, Irma would have been considered a category 6 storm when it had sustained winds of 185 miles per hour. This is a point that I made in my article entitled "Hurricane Irma: If There Was Such A Thing As A Category 6 Hurricane, This Would Be It".
And just a day later, MSNBC published an article with a suspiciously similar headline: "If there were a category 6 hurricane, Irma would be it".
So will the rest of the mainstream media attack MSNBC for saying the exact same thing that I did?
Of course not.
And will the mainstream media attack Miami Beach Mayor Philip Levine for calling Irma "a nuclear hurricane"?…
"We have talked to people in your city who say, 'We ain't going,'" CBS4's Hank Tester told Levine.

"I hate to hear that. I'll do anything in my power to convince them this is a very serious storm. This is a nuclear hurricane. They should leave the beach, they must leave the beach," he said.
Of course not.
I am certainly not criticizing Levine. Once again, it is not terminology that I would have used, but if it helps get more people to safety that is a good thing.
Just look at what has happened to Barbuda. According to Antigua Prime Minister Gaston Browne, 95 percent of the buildings on Barbuda have been damaged or destroyed…
"As it stands, Barbuda is practically uninhabitable," Antigua Prime Minister Gaston Browne told Antigua/Barbuda Broadcasting Services. He added that the destruction on the island, which is home to about 1,800 people was "heart-wrenching" and most of it is now completely underwater.

"A significant number of the houses have been totally destroyed," his chief of staff Lionel Hurst said. At least one of the eight deaths caused by Irma was confirmed on the island of Barbuda. Originally, Browne's optimistic Facebook post claimed that Barbuda and Antigua had both stood up to Irma's wrath. Antigua, which is home to around 80,000 people was not hit nearly as hard as Barbuda.

"It is clear that Antigua and Barbuda has stood up to a mighty test," he wrote in the statement posted to Facebook. But he revised his opinion after taking a helicopter ride to survey the damage to Barbuda, which is just 30 miles north of Antigua. "I never contemplated any possibility that you could have such a contrast," he said of the relative destruction. Browne also said that 95% of the buildings on Barbuda were damaged and 30% percent of the buildings on the island completely demolished when the core of the Category 5 hurricane crossed almost directly over the island early Wednesday. "Barbuda now is literally rubble," Browne said.
And Browne put an exclamation point on things when he told Anderson Cooper the following…
"I have never seen any such destruction on a per capita basis compared to what I saw in Barbuda this afternoon," Browne told CNN's Anderson Cooper.
Could we see similar devastation in our country?
We shall see. Right now, millions are holding their breath as they wait to see where Irma will go. According to the Washington Post there are a couple of key factors that meteorologists are watching…
The first is a ridge of high pressure over the Atlantic, dubbed the "Bermuda High." This system, around which winds flow clockwise, acts as a guardrail to Irma, shunting it farther south and west like a pinball, and preventing it from heading out to sea. The stronger the ridge, the greater the probability that its westward movement will continue.

The second is what's known as an upper-level shortwave trough. This is a zone of low pressure spinning away over the southern Tennessee Valley within a dip in the jet stream, that spins counterclockwise. This will eventually capture Irma into its overall circulation, but the strength and forward speed of that feature will determine Irma's propensity to move inland.
But of course authorities can't wait until the last minute, and coastal communities are already being evacuated. And we are not just talking about Florida. Earlier today, we learned that an evacuation order had been issued for Savannah, Georgia…
Georgia's governor has ordered a mandatory evacuation starting on Saturday from the state's Atlantic coast ahead of Hurricane Irma. That includes the city of Savannah, home to nearly 150,000 people.

Gov. Nathan Deal issued the evacuation Thursday for all areas east of Interstate 95, all of Chatham County and some areas west of the interstate. He also expanded a state of emergency to 30 counties.
Down in Florida, the clock is ticking for those that would still like to get out. There is extremely heavy traffic on the major highways, and many gas stations down in Florida have already completely run out of gasoline…
Several gas stations in Florida ran out of gas Thursday as Hurricane Irma approached the state.

Supplies fell as people heeded evacuation orders for some southern parts of the state. Last week, Hurricane Harvey crippled oil refineries in Texas, creating shortages even before Irma made landfall in the Caribbean.
As I have been saying all along, you don't want to be there when this storm makes landfall.
There are going to be some people that figure that since they were able to "ride out" other hurricanes that they will be able to do the same thing with Irma.
Those that choose to do that will be making a tragic mistake, and it may cost some of them their lives.
Michael Snyder is a Republican candidate for Congress in Idaho's First Congressional District, and you can learn how you can get involved in the campaign on his official website. His new book entitled "Living A Life That Really Matters" is available in paperback and for the Kindle on Amazon.com.