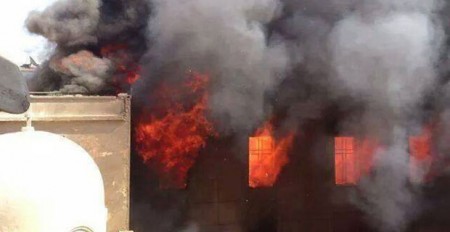 ISIS is persecuting Christians in much the same the Nazis persecuted the Jews.
The Islamic State, formerly ISIS, has burned the Syriac Catholic Diocese in Mosul to the ground, according to the Chaldean, Assyrian and Syriac website Ankawa4all.com and the Chaldean Catholic Patriarch Louis Sako.
Earlier this month members of ISIS took sledge hammers to the tomb of the biblical prophet Jonah in Mosul.
Thousands of Christian Iraqis fled the city after ISIS ordered them to either convert to Islam, pay a special tax or leave. The deadline for the order was Saturday.
Al Arabiya reported on Sunday many Christians evacuated the city on Friday and is not clear if any remained after the deadline.
"Christian families are on their way to Dohuk and Arbil" in the nearby autonomous region of Kurdistan. "For the first time in the history of Iraq, Mosul is now empty of Christians," said the Patriarch Sako.
(Read the rest of the story here…)