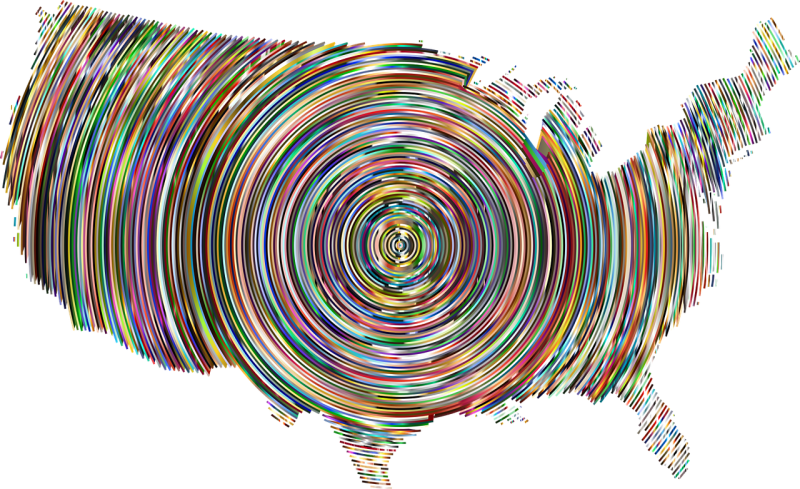 (Guest article by Jane Northrup Glenn)
Covid marked a no-turning-back point in history. The pandemic set off the trip line, triggering the use of larger forces in both the physical and spirit realms to battle for our souls. Moving forward we must have discernment to know if something is either real or counterfeit so that we know whose throne we're kneeling before.
Take this quick discernment test to see how you score! Circle the answers below that are certainly or most likely part of God's agenda and not Satan's:
1. The United States no longer resembles the country it once was. This is arguably both good and bad, but most people would agree that we need a do-over. Which of the following reboot scenarios best aligns with God's promise to us?
A. "The pandemic represents a rare but narrow window of opportunity to reflect, reimagine and reset our world." Professor Klaus Schwab, Founder and Executive Chairman, World Economic Forum The Great Reset | World Economic Forum (weforum.org)
B. "that times of refreshing may come from the presence of the Lord, and that he may send the Christ appointed for you, Jesus, whom heaven must receive until the time for restoring all the things about which God spoke by the mouth of his holy prophets long ago." (Acts 3:20-21)
C. Both A and B
D. Neither A or B
2. Many people, some out of fear, have spent less time fellowshipping with others in places such as their churches, homes, public parks, grocery stores and even TJMaxx and Ross for crying out loud! Which of the following best represents the way our freedom and confidence can be reestablished according to the promises of Jesus?
A. "Share your current health status so you can safely return to travel, work, school and life." The Common Trust Network was built by The Commons Project Foundation and The World Economic Forum. CommonPass | Digital Health App
B. "It also forced all people, great and small, rich and poor, free and slave, to receive a mark on their right hands or on their foreheads, so that they could not buy or sell unless they had the mark, which is the name of the beast or the number of its name." (Revelation 13:16-17)
C. "Have I not commanded you? Be strong and courageous. Do not be afraid; do not be discouraged, for the Lord your God will be with you wherever you go." (Joshua 1:9)
D. "Trust in the Lord with all your heart and lean not on your own understanding; in all your ways submit to him, and he will make your paths straight." (Proverbs 3:5-6)
E. "Surely he will save you from the fowler's snare and from the deadly pestilence. He will cover you with his feathers, and under his wings you will find refuge; his faithfulness will be your shield and rampart. You will not fear the terror of night, nor the arrow that flies by day, nor the pestilence that stalks in the darkness, nor the plague that destroys at midday. A thousand may fall at your side, ten thousand at your right hand, but it will not come near you." (Psalm 91:4-7)
F. All except A
G. C, D, and E
3. Universal Basic Income (UBI) has a negative connotation for some, and that's an understatement. Thankfully, the United States Armed Forces serves as proof of concept for paying workers a guaranteed minimum income that almost everyone can get behind. Which of the following sounds most like something God might get behind?
A. "So a new social contract needs to emerge from this crisis that rebalances deep inequalities that are prevalent across societies. To put it bluntly: The question should no longer be whether resources for effective social protection can be found – but how they can be found. UBI promises to be a useful element of such a framework." Universal basic income is the answer to the inequalities exposed by COVID-19 | World Economic Forum (weforum.org)
B. "This may be the time to consider a universal basic wage which would acknowledge and dignify the noble, essential tasks you carry out. It would ensure and concretely achieve the ideal, at once so human and so Christian, of no worker without rights." Pope Francis suggests a universal basic wage could ease the poverty caused by coronavirus | World Economic Forum (weforum.org)
C. Jesus answered, "If you want to be perfect, go, sell your possessions and give to the poor, and you will have treasure in heaven. Then come, follow me." (Matthew 19:24)
D. "Look! The wages you failed to pay the workers who mowed your fields are crying out against you. The cries of the harvesters have reached the ears of the Lord Almighty." (James 5:4)
E. "Do not take advantage of a hired worker who is poor and needy, whether that worker is a brother or a foreigner residing in one of your towns." (Deuteronomy 24:14)
F. God's Public Option
G. C, D, E and what the heck is F
4. In my first book, "God Punched Back", God warns us that we will see an increase in public-private partnerships and when we do, this is not from Him. Which of the following might be a decoy for the purpose of steering us away from God's perfect plan to get us home? (Hint: This might be a trick question because the correct answer is the opposite of God's plan.)
A. "And there is a critical component… for the first time, and in a massive way, the private sector is at the table and, frankly, leading in the way that even some governments are not." John Kerry launches First Movers Coalition at COP26 | World Economic Forum (weforum.org)
B. "All who are skilled among you are to come and make everything the Lord has commanded…Then the whole Israelite community withdrew from Moses' presence, and everyone who was willing and whose heart moved them came and brought an offering to the Lord for the work on the tent of meeting… All the Israelite men and women who were willing brought to the Lord freewill offerings for all the work the Lord through Moses had commanded them to do." (Exodus 35:10-29)
C. God's Public Option
D. Both B and C
E. Both A and C
(Answers: 1. B, 2. G, 3. G, 4. A)
Folks, we are witnessing the establishment of the one world government that Jesus warns us about in the book of Revelation and every day that passes, our bondage to it increases. King Jesus intends to set us free from this slavery just as He did the Israelites after His patience had worn thin with Pharaoh. The Lord is giving us a way out, a passage to freedom, but we must prepare our hearts to see it! We must stop willfully sinning, confess our sins and repent to receive revelation and confirmation from the Holy Spirit regarding this.
Everyone seems to be talking about this, but no one seems to have a viable plan. I believe that God gave me the divine blueprint to do this, and it mirrors the building of the Tabernacle during the Exodus and journey to the Promised Land. He wants us to know that He will dwell with us within it and that He will show His Glory once again through mind-blowing miracles of provision and protection.
Just like the Tabernacle in the desert, God's Public Option is both practical and supernaturally tactical. Practically speaking, GPO is a massive, private, membership-based franchise that can be established right now in any city. It's a hybrid staffing agency, Professional Employee Organization (PEO) and Chamber of Commerce with its own internal systems including education, banking, and healthcare. It requires no new or repealed legislation to launch, effectively allowing elected officials to remain useless but not feel guilty about it.
The following is an excerpt from "God's Public Option" –
The American Christian Marketplace Authority is positioned to release the multitudes of every conceivable background from the grip of the government. However, the first phase of the organization purposefully and strategically focuses on setting free those who have been caught in the snare of the criminal justice system.
After the ACMA takes the stage, elected officials, political candidates, and voters will be forced to take a side. Anyone who opposes the ACMA, opposes King Jesus, and they will be exposed. Two justice movements will battle from here on out. And let me be clear: now is not the time in history to mess with the God of the Holy Bible and His children.
I have enough experience to confidently state that those coming out of incarceration, their families, and the working poor, particularly within the black and brown communities are not fans of the government. They do not trust the government as far as they can throw it, and it is impossible to throw the government. Once the ACMA emerges, the largest voting block of people in the United States of America will now vote against political candidates that continue to increase the power of the new American totalitarian regime.
Below are some practical applications to illustrate how the ACMA helps small businesses, property owners and individuals (workers). The scenario for the workers is relevant to those in the criminal justice system; although, the individual (worker) membership is for anyone.
Small Business
The goal of the American Christian Marketplace Authority is to stand in the gap between the government and small business so the ACMA can mitigate harmful mandates and regulation. In addition, a fight has begun between the government and business about who has authority over and provides for the worker. Without the power of the ACMA, the business will ultimately have a worker pool that is mostly if not solely controlled by the government.
For this reason, the ACMA focuses on staffing for the business member. Membership fees are based on the number of workers it will need to run the business. ACMA workers are separate from non-ACMA employees so a business may have twenty employees and two workers come from their ACMA membership. Ideally, the business will transition all non-ACMA employees to ACMA workers. The natural process for this can be done through attrition. For example, when the business lays off employees it will recommend that they become a worker member of the ACMA rather than apply for government unemployment.
All ACMA workers have completed excellence training and a skills and career assessment prior to placement with the business, ensuring a solid fit. If the business requires specific training for their employees such as asbestos abatement, all ACMA workers placed with that business will be certified in that area.
ACMA workers have their personal needs met through the ACMA and include benefits such as housing, healthcare, mental health, transportation, and childcare. This helps the business so it can focus on profitability rather than dealing with the personal issues of the worker.
The goal of the ACMA is to provide long-term workers to the business, mimicking a permanent placement even though the worker is an employee of the ACMA. If for any reason the regular ACMA worker is unable to work, a replacement worker is deployed in the interim. This is especially helpful in the pandemic era that we have entered.
Another benefit to the business is several deployments of ACMA workers to complete projects that may have been put off due to lack of staff or other reasons. For example, a restaurant may need to do deep cleaning of the kitchen area or a retail store may need to reorganize the storeroom. This benefit helps the business stay compliant, efficient, and productive.
Staying informed on current issues is critical to the success of small businesses so the ACMA offers members access to a variety of business and political related trainings, groups, workshops and think tanks.
________
About the Author
Jane Northrup Glenn is the author of God Punched Back – Knocking Out the United States Government to Set People Free and God's Public Option – A Separation of Church and State the Way Jehovah Jireh Intended. These engaging, easy-to-read, books are the first two of a four-book series discussing the end times, Christians and politics, financial bondage to the government, and God's planned exodus out of debt enslavement and the current secular humanistic rule of law.
Mrs. Glenn is a visionary with a diverse professional background that includes positions in both the nonprofit and for-profit sectors. As an entrepreneur, she has worked extensively with the homeless and with juvenile and adult offenders in the capacity of job placement. She is the founder of Authority Staffing, a (former) Christian business prototype in Fort Collins that specialized in felon employees. Authority Staffing was recognized by the State of Colorado in 2016 and named 1 of 21 Gospel Driven Businesses by Ministry Today. Jane is also interviewed in a Ministry Today article on prayer with employees. Prayer Power can be found in the 2017 Building Kingdom Leaders edition.
Jane earned a B.S. in Home Economics (Vocational Secondary Education) with an emphasis in Human Development and Family Studies from Colorado State University in Fort Collins, Colorado. She is a member of Christian Harvest International's Strategic Prayer Apostolic Network (SPAN) and is married to Darryl Glenn – attorney, USAF Lieutenant Colonel (Ret.), former President of the Board of El Paso County Commissioners in Colorado Springs and 2016 Colorado Republican Nominee for United States Senate.
Peace,
"The Spirit of the Lord God is upon me…to proclaim liberty to captives and freedom to prisoners." Isaiah 61:1