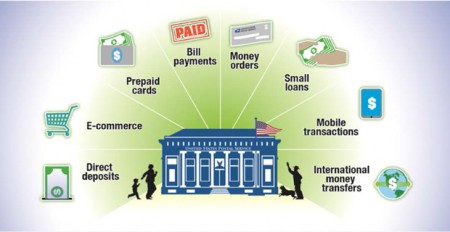 Lawmakers are considering a proposal to allow the United States Postal Service to provide payday loans, check cashing, prepaid cards and other financial services at post offices across the country.
The proposal by the Postal Service's Office of Inspector General, which is now being considered in Congress, would place post offices in competition with payday lending companies serving "low-income communities, including rural and inner-city areas."
"There is a wide range of consumers who need access to small-dollar credit, and the Postal Loan could strongly appeal to these different types of borrowers," boasts the proposal entitled Providing Non-Bank Financial Services to the Underserved. "For example, people whose income varies throughout the year, consumers with no other avenues to credit, families with unexpected expenses, and others."
The proposal also states that the Postal Service could also provide a "reloadable prepaid card" called the "Postal Card" which customers can use with automated teller machines (ATMs) installed inside the post office.
"Users could load cash or their paychecks onto the card, and then use it to withdraw cash, pay bills, and send or receive international remittances," the report claims. "With the development of highly secure identity verification systems and partnerships with government at the local, state, and federal levels, the cards also could send or receive tax payments and refunds, as well as handle other government-to-citizen or citizen-to-government payments."
(Read the rest of the story here…)