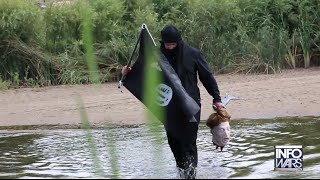 Infowars reporter Joe Biggs crossed the U.S. border from Mexico dressed as an ISIS militant to illustrate how easy it is for anyone to get into America despite warnings that Islamic State terrorists are plotting to carry out attacks on the homeland from their base in Juarez.
Just miles from the center of El Paso, Texas, Biggs was able to cross a river from Mexico into America dressed as a jihadist, while simulating a beheading and waving an ISIS flag.
"We dressed up as an ISIS jihadi to be as obvious as possible and to show and illustrate just how wide open the border really is," states Biggs.
Last month, James O'Keefe also demonstrated the porous state of the U.S. border when he crossed an unguarded footbridge in the upper Rio Grande while dressed as Osama Bin Laden.
Biggs' stunt is shocking given that ISIS militants are currently operational in Juarez, Mexico, just across the border from El Paso, Texas.
(Read the rest of the story here…)