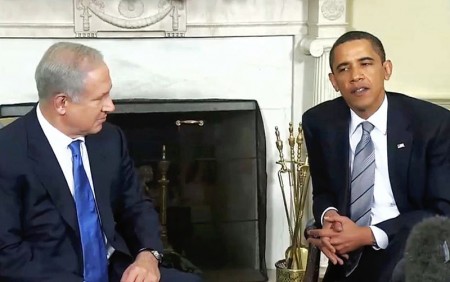 The gloves are off. The White House has now unequivocally designated Israel as the scapegoat and is meting out punishment for the disastrous outcome of the peace negotiations it initiated.
The process began in March when President Barack Obama publicly lambasted Prime Minister Binyamin Netanyahu in a brutal and offensive manner the day before their scheduled meeting in Washington. It climaxed last week when the White House reneged on its commitment to Israel, announcing that it would continue business as usual with the new PA government after the merger with the genocidal Hamas, the terrorist organization which remains utterly committed to the destruction of Israel.
Prior to this, administration spokesmen had been campaigning behind the scenes to undermine the standing of Israel with the American public. That Israel had frozen settlement construction for nine months and conceded to an abhorrent release of Palestinian terrorists with blood on their hands were facts they simply ignored. Conversely, the Palestinian refusal to make a single concession or agree under any circumstances to an end of conflict was rarely mentioned.
(Read the rest of the story here…)