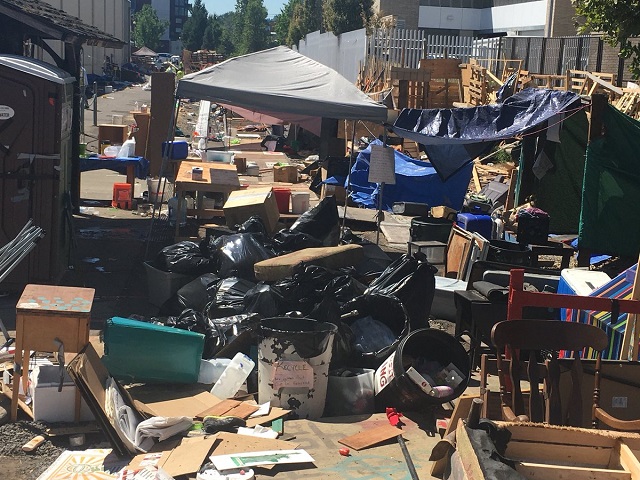 (Information Liberation) Left-wing Occupy ICE PDX protesters left massive amounts of garbage and "human waste piling up" for the city to clean at taxpayers' expense outside Southwest Portland's US Immigration and Customs Enforcement headquarters.
From KPTV:
Cleanup has begun at what, for five weeks, was the Occupy ICE PDX camp. Portland Police Bureau officers limited access to the site earlier [Wednesday], calling it a biohazard.

The mayor's office confirmed to FOX 12, the city will pay for a portion of the cleanup bill, as will TriMet. Both are part of the consortium that owns the land on which protesters set up their camp.
Frank Savage, who lives across the street from the site, says, "It was pretty disgusting that that's how they were living back there."

Where protesters once stood, now trash litters the ground. But Savage says he's relieved for things to go back to normal.

"Getting tired of waking up to the bullhorn and the sounds and the cussing," he said.
Portland police let the squatters go without any repercussions:

Even after receiving orders from Mayor Ted Wheeler to leave on Monday, Occupy ICE PDX leaders affirmed they would not.

But, at around 4:15 a.m. Wednesday, Portland police entered the camp, clearing protesters. Chief Danielle Outlaw says they did so without issuing any tickets or making any arrests.
Though the occupiers didn't manage to permanently shut down ICE, they did succeed in shutting down a family's food cart which they used to help feed the homeless:
This is what Democrats want for every city in America.
The city has hired private contractors to clean up the mess left behind at the #OccupyICEPDX camp. They're calling this site a biohazard. pic.twitter.com/Py2Zx9zjIZ

— Marja Martinez (@MarjaKPTV) July 25, 2018
GROSS… a look at the massive amount if 'items' left behind by #OccupyICEPDX protestors after @PortlandPolice cleared the camp early this morning. It's pretty disgusting down here. Stay with @KATUNews for the latest info #LiveOnK2 pic.twitter.com/XuOtZSTXB6

— Mike Warner (@MikeKATU) July 25, 2018
Here's a closer look at some of the things left behind at what was the #occupyicepdx camp. More info on @fox12oregon pic.twitter.com/bNIdWMEHLt

— Marja Martinez (@MarjaKPTV) July 26, 2018
Cleanup crews moving quickly through field where occupiers once were. The biohazards are one of the reasons the police chief/Mayor agreed to shut camp down. #LiveOnK2 #OccupyICEPDX pic.twitter.com/wBACDsg0TN

— Genevieve Reaume (@GenevieveReaume) July 25, 2018
NOW: A look inside what remains at the #OccupyICEPDX camp after Portland Police forced the last protesters out. #KOIN6News pic.twitter.com/CYwZkNPJnK

— Elise Haas (@EliseKOIN) July 25, 2018
When the police cleared out the camp the Occupy ICE protesters called them "Nazis" and "killers" and shouted, "f**k you," adding, "you're a f**king traitor!"
Protesters calling police Nazis and killers as they face arrest. #OccupyICEPDX #fox12oregon pic.twitter.com/jvb1v1xFOU

— Marilyn Deutsch (@marilyndeutsch) July 25, 2018
According to the modern left, anyone who doesn't want to live in a third world s***hole is a "fascist" and a "Nazi."
Follow InformationLiberation on Twitter, Facebook and Gab.