(
YouTube
) Residents of Tel Aviv ran for shelter, as a rocket fired from the Gaza Strip was intercepted near the city, the military said. Air raid sirens went off in the city, which is Israel's commercial capital and about 45 miles north of the Gaza Strip.
Half The Israeli Population In Bomb Shelters?
On Tuesday, Consul General of the State of Israel David Siegel told TruthRevolt Editor-in-Chief Ben Shapiro that over half of Israel's population was currently hunkered down in bomb shelters thanks to the spate of rocket attacks from Hamas in the Gaza Strip. "It's a very difficult night in Israel. Roughly half our population, around 4 million people are in bomb shelters tonight," Siegel explained on Shapiro's radio show on Seattle's AM 770 KTTH.
Siegel went on to state that 20 Israeli cities have been subjected to rocket attack, with Hamas firing over 150 rockets overnight in Israel. Thirty of those rockets, "the most dangerous" rockets, were intercepted by Israel's missile defense shield, Iron Dome, Siegel explained. But, he added, "117 landed."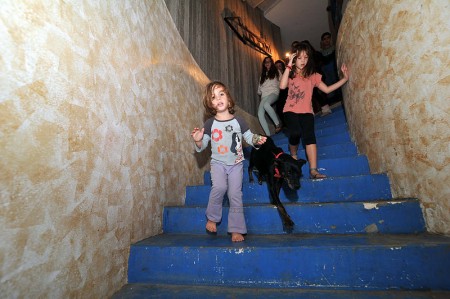 (Read the rest of the story here…)