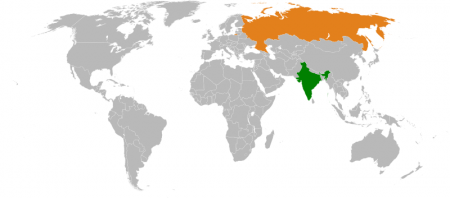 Over the past 6 months, there has been much talk about the strategic proximity between Russia and China, made even more proximal following the "holy grail" gas deal announced in May which would not have happened on such an accelerated time frame had it not been for US escalation in Ukraine.
And yet little has been said about that other just as crucial for the "new BRIC-centric world order" relationship, that between Russia and India. That is about to change when yesterday the Russian central bank announced that having been increasingly shunned by the west, Russia discussed cooperation with Reserve Bank of India Executive Director Shrikant Padmanabhan. The punchline: India agreed to create a task group to work out a mechanism for using national currencies in settlements. And so another major bilateral arrangement is set up that completely bypasses the dollar.
From the Russian Central Bank:
First Deputy Chairman of the Central Bank of the Russian Federation KV Yudaeva and Executive Director of the Reserve Bank of India G. Padmanabhan at the twentieth meeting of the Subgroup on banking and financial issues of the Russian-Indian intergovernmental commission on trade-economic, scientific-technical and cultural cooperation discussed the current state and prospects of cooperation between banks.

The meeting was attended by representatives of central banks, ministries and agencies, credit organizations in Russia and India.

During the meeting dealt with the problems faced by the branches and subsidiaries of banks in the two countries and ways of addressing these problems.

As a priority area discussed the use of national currencies in mutual settlements. Given the urgency of the issue and the interest of commercial structures of the two countries, the meeting decided to establish a working group to develop a mechanism for the use of national currencies in mutual settlements. It will consist of representatives of banks and, if necessary, the ministries and departments of the two countries to coordinate its activities will be central banks of Russia and India.
(Read the rest of the story here…)