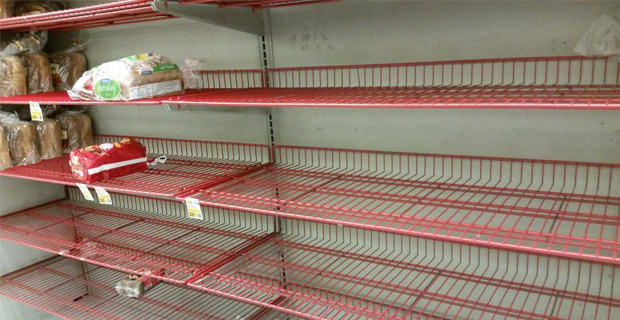 As northeast coast residents brace for what many are predicting to be the biggest blizzard of all time, last-minute shoppers rushed grocery stores leaving empty shelves as they made preparations for a snow in of possibly epic proportions.
Tens of millions stand in the path of a massive blizzard expected to impact a 250-mile swath of the east coast, which some are anticipating will blanket parts of New England in up to three feet of snow.
Several major airports have canceled hundreds of flights, and Connecticut Gov. Dannel Malloy has ordered traffic off of roads starting at 9PM, also warning residents to expect rolling power outages.
New York Governor Andrew Cuomo has urged residents to stay home if possible, and yesterday New York City Mayor Bill de Blasio put out an urgent warning telling residents to "prepare for the worst."
"We are facing most likely one of the largest snowstorms in the history of this city," de Blasio stated. "New Yorkers should not underestimate this storm… Assume conditions will be unsafe."
"Make other plans. Change your plans now in advance of this storm. Even walking should be kept to a minimum."
(Read the rest of the story here…)