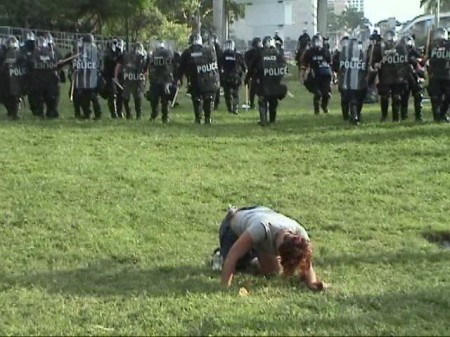 Whether it's the working mother arrested for letting her 9-year-old play unsupervised at a playground, the teenager forced to have his genitals photographed by police, the underage burglar sentenced to 23 years for shooting a retired police dog, or the 43-year-old man who died of a heart attack after being put in a chokehold by NYPD officers allegedly over the sale of untaxed cigarettes, the theater of the absurd that passes for life in the American police state grows more tragic and incomprehensible by the day.
Debra Harrell, a 46-year-old South Carolina working mother, was arrested, charged with abandonment and had her child placed in state custody after allowing the 9-year-old to spend unsupervised time at a neighborhood playground while the mom worked a shift at McDonald's. Mind you, the child asked to play outside, was given a cell phone in case she needed to reach someone, and the park—a stone's throw from the mom's place of work—was overrun with kids enjoying its swings, splash pad, and shade.
A Connecticut mother was charged with leaving her 11-year-old daughter in the car unsupervised while she ran inside a store—despite the fact that the child asked to stay in the car and was not overheated or in distress. A few states away, a New Jersey man was arrested and charged with endangering the welfare of his children after leaving them in a car parked in a police station parking lot, windows rolled down, while he ran inside to pay a ticket.
A Virginia teenager was charged with violating the state's sexting law after exchanging sexually provocative videos with his girlfriend. Instead of insisting that the matter be dealt with as a matter of parental concern, police charged the boy with manufacturing and distributing child pornography and issued a search warrant to "medically induce an erection" in the 17-year-old boy in order to photograph his erect penis and compare it to the images sent in the sexting exchange.  The police had already taken an initial photograph of the boy's penis against his will, upon his arrest.
In Georgia, a toddler had his face severely burned when a flash bang grenade, launched by a SWAT team during the course of a no-knock warrant, landed in his portable crib, detonating on his pillow. Also in Georgia, a police officer shot and killed a 17-year-old boy who answered the door, reportedly with a Nintendo Wii controller in his hands. The cop claimed the teenager pointed a gun at her, thereby justifying the use of deadly force. Then there was the incident wherein a police officer, responding to a complaint that some children were "chopping off tree limbs" creating "tripping hazards," pulled a gun on a group of 11-year-old boys who were playing in a wooded area, attempting to build a tree fort.
(Read the rest of the story here…)