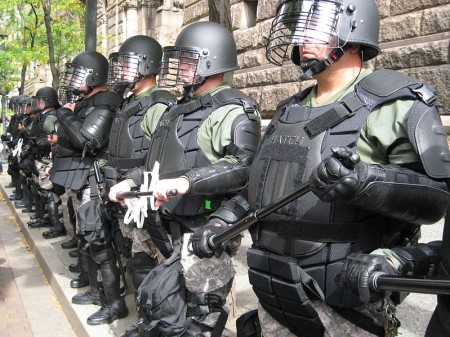 A promotional video touting FEMA's emergency response capabilities shows U.S. National Guard troops training to detain unruly African-American citizens in prison camps before handing them over to police.
The video appears on the official YouTube channel for Guardian Centers, an 830 acre "disaster preparedness and tactical training validation center" located in Georgia which is routinely used by FEMA and other government agencies to practice emergency response procedures.
After the 2 minute mark in the clip, the scene cuts to a black woman who is struggling to escape from the clutches of a uniformed soldier. The area is surrounded by concertina wire and guarded by other troops.
The clip then shows the woman, along with another African-American, being handed over to local police before being driven away.
Described by CNN as the "doomsday Disneyland," Guardian Centers is a mock city complete with a subway station that "allow(s) a variety of responders to do a variety of drills in one location."
The sight of National Guard troops training to detain Americans in prison camps is unlikely to quell concerns that authorities are preparing for domestic disorder.
(Read the rest of the story here…)