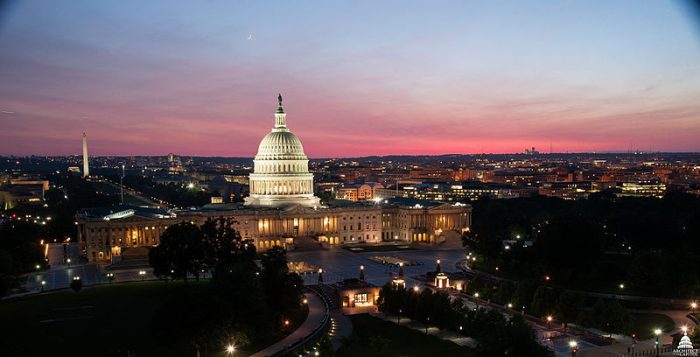 If we truly want to take our government back, we are going to have to fight harder than we have ever fought before. Right now I am seeing so much apathy among Republicans, and that deeply alarms me, because if the 2018 midterm elections were held right now the Democrats would probably take back control of the House and it would be a really close call in the Senate. Conservatives all over the United States need to wake up immediately, because we only have a handful of months to get this thing turned around. In 2016, we gave Republicans control of the White House, the Senate and the House of Representatives, and this represented a once in a generation opportunity to fundamentally transform the federal government. Instead, the Republican-controlled Congress has accomplished next to nothing, and the American people are deeply frustrated.
According to Real Clear Politics, Congress currently has an average approval rating of just 14.3 percent and an average disapproval rating of 73.5 percent. Those are absolutely disastrous numbers, and they tell me that we better get our act together or 2018 is going to be a major disaster.
If we didn't get it after the disastrous election results in New Jersey and Virginia in November, then the debacle in Alabama really should have shaken us up. All over the nation Democrats are raising more money, they have more enthusiasm, and they have more momentum. And a brand new Wall Street Journal/NBC News poll that was just released had incredibly bad news for Republicans…
A Wall Street Journal/NBC News poll released on Sunday found that 50% of people said they want Democrats to lead Congress after the 2018 midterm elections, compared to 39% who said they hoped Republicans would retain congressional control.

According to the Journal, the survey result represents a 4-point increase from a similar survey taken in October, and it is the first double-digit advantage for the party since shortly before the 2008 presidential election that resulted in a Democratic super-majority in the Senate, and control of both congressional chambers.
Of course it is easy to dismiss a single poll, but other polls have come up with similar results.
Here is one example…
A Monmouth University survey released on Wednesday — conducted by telephone, and with a plus-or-minus 3.5% margin of error— found that 51% of registered voters said they would vote for or lean toward a Democratic candidate if the 2018 elections were held today, compared to just 36% who said they would vote or lean Republican.
Is this dramatic shift in the numbers happening because the American people have suddenly fallen in love with the Democratic Party?
Of course not.
In fact, a recent CNN poll showed that only 37 percent of Americans have a favorable view of the Democratic Party at this point…
Favorable views of the Democratic Party have dropped to their lowest mark in more than a quarter century of polling, according to new numbers from a CNN poll conducted by SSRS.

Only 37% of Americans have a favorable opinion of Democrats, down from 44% in March of this year. A majority, 54%, have an unfavorable view, matching their highest mark in polls from CNN and SSRS, CNN/ORC and CNN/USA Today/Gallup stretching back to 1992.
What this means is that we can still win in 2018, but we have got to get our act together. We have the best message and the best candidates, but we have got to be willing to make sacrifices and put in the hard work that is necessary.
Look, the first primaries for the 2018 midterm elections are just a few months away. There are good pro-Trump candidates running all over the nation, and I have been appalled to see how little support they are receiving. Things are looking incredibly promising for my race here in Idaho, but we need a whole lot more than just one pro-Trump conservative in Congress.
If you are pro-Trump, now is the time to take action. If we allow establishment Republicans to defeat pro-Trump candidates all over the country in the upcoming primaries, we won't even have anyone decent to vote for by the time November 2018 rolls around.
I understand that people are not accustomed to thinking about politics this time of the year, but the only way that we are going to win in 2018 is if we put in the hard work right now. If we sit back and do nothing, we will end up with the government that we deserve.
There are still races all over America where pro-Trump challengers are needed. It is still not too late to jump in, and if there is not a pro-Trump candidate running for Congress where you live, perhaps you should consider making the leap.
Of course most people cannot afford to spend the time, effort, energy and money that it takes to run for Congress, but everyone can be involved in some way.
If you have extra time, you can volunteer to be part of a campaign in your local area. Others are extremely busy with work but can make a contribution to help get the message out. And even if you are confined to your home all day, you can still help promote good candidates on social media.
If you stand with President Trump, you need to get involved in the 2018 mid-term elections. If we aren't going to fight for what we believe, we might as well hand Democrats control of everything right now. Because I will tell you that they are far more energized than Republicans right now. They are determined to take Congress back, they are having absolutely no problem recruiting candidates, and those candidates are having no problem raising money and recruiting volunteers.
In 2018, pro-Trump forces will not be able to say that there were not good people to vote for. And many of us will actually win if you will just get behind us.
The presidency of Donald Trump is potentially the last chance in this generation to take our government back. If we blow this opportunity, we might not ever have another one in our entire lifetimes.
This is a call to action that I hope is read by every conservative from the very top to the very bottom all across this nation. We literally have four or five months to turn this thing around, and the clock is ticking.
We can still win in 2018, but we need everyone to wake up right now and start getting engaged.
The future of this nation is literally hanging by a thread, and we desperately need your help. Please join the battle, because it is going to take a total team effort in order to win.
Michael Snyder is a Republican candidate for Congress in Idaho's First Congressional District, and you can learn how you can get involved in the campaign on his official website. His new book entitled "Living A Life That Really Matters" is available in paperback and for the Kindle on Amazon.com.