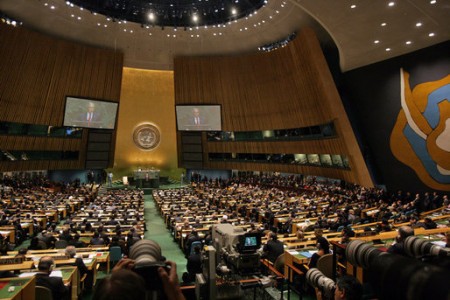 Once again, it seems, Israel has been forsaken in its time of need, abandoned by what it thought were its friends. Once again, it feels unfairly singled out, condemned for alleged crimes it committed while defending its citizens against a terrorist enemy that is getting away with murder.
On Wednesday, the United Nations Human Rights Council voted on a heavily one-sided resolution condemning "in the strongest terms the widespread, systematic and gross violations of international human rights and fundamental freedoms arising from the Israeli military operations" in Gaza. The Geneva-based council, which has a long history of anti-Israel bias, also declared a new "international commission of inquiry" into the events currently unfolding in Israel and Gaza, in what observers are calling a new Goldstone report.
Only the United States voted against the resolution. Twenty-nine nations voted in favor, among them not only the usual suspects such as Saudi Arabia, Algeria and South Africa, but also some ostensible friends of Israel, including Russia, Kenya, India and Mexico.
Equally hurtful for Israel, if not more so, were the abstentions of the eight European Union member states who had the right to vote: Austria, the Czech Republic, France, Germany, Ireland, Italy, Romania and the United Kingdom. (Montenegro and the former Yugoslav Republic of Macedonia are not EU members but also abstained; non-member states Iceland, Serbia, Albania and Liechtenstein aligned themselves with the EU position.)
(Read the rest of the story here…)