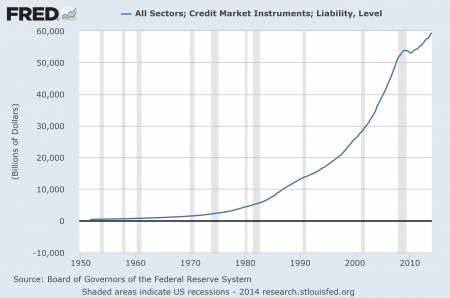 Even if the economy were growing at a faster pace, it wouldn't come close to offsetting the interest payments on our ever-expanding debt.

If you want to know why the Status Quo is unsustainable, just look at interest and debt. These are not difficult to understand: debt is a loan that must be paid back or discharged/written off and the loss absorbed by the lender. Interest is paid on the debt to compensate the owner of the money for the risk of loaning it to a borrower.

It's easy to see what's happening with debt and the real economy (as measured by GDP, gross domestic product): debt is skyrocketing while real growth is stagnant. Put another way–we have to create a ton of debt to get a pound of growth.

There is no other way to interpret this chart.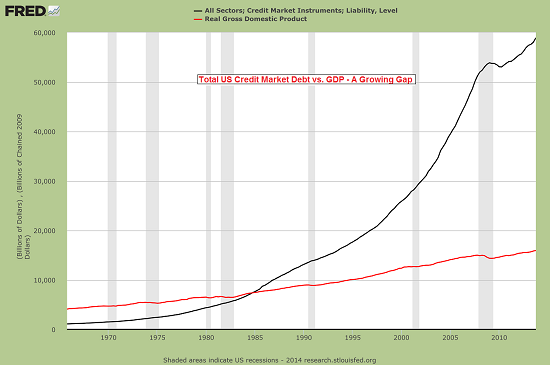 source: Acting Man

The Status Quo has only survived this crushing expansion of debt by dropping interest rates to historic lows. This is a chart of the yield on the 10-year Treasury bond, which reflects the extraordinary decline in interest rates over the past two decades.

The Federal Reserve has pegged rates at essentially 0% for years. That means the strategy of lowering interest rates to enable more debt has run out of oxygen: rates can't drop any lower, and so they can either stay at current levels or rise.
(Read the rest of the story here…)