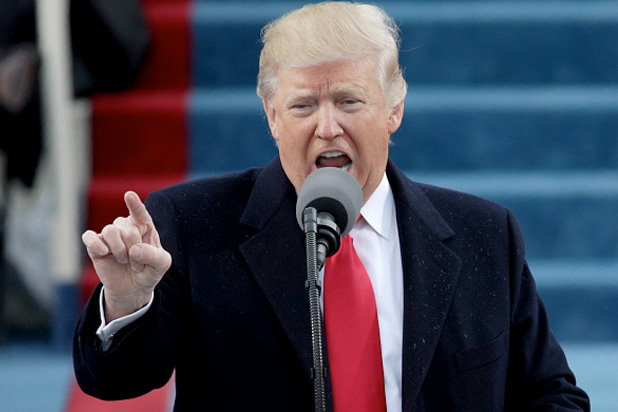 Donald Trump is making the exact same tragic mistake that other prominent leaders have made in the past.  You never, ever, ever go to war with your own people.  Yes, you may have some very serious disagreements with your own team sometimes, but you never go to war with them.  When Trump openly declared war on the Freedom Caucus, he immediately lost the support of millions of conservatives.  And now Trump is going to have a tremendously difficult time getting anything on his agenda through Congress, because without Freedom Caucus votes the Democrats will be able to block just about everything that Trump wants to do.
Yes, I understand that Trump is upset because his healthcare legislation failed.  But instead of getting angry and lashing out at the people that should be his closest allies in Congress, perhaps he should take another look at the bill.
The truth is that it was called "Obamacare Lite" for a reason.  It was an absolute nightmare of a bill, and conservatives all over the nation were united in their opposition of it.
When you are a leader, sometimes you have to be willing to admit that you were wrong.
Unfortunately, Donald Trump is not very good at admitting when he is not right about something.
Instead of the path of humility, Trump has decided to go to war with the Freedom Caucus.  On Friday, Trump actually posted a tweet that urged his supporters to "fight" the Freedom Caucus during the election of 2018…
"The Freedom Caucus will hurt the entire Republican agenda if they don't get on the team, & fast. We must fight them, & Dems, in 2018!"
No, conservatives will definitely not be attempting to remove the best members of Congress in 2018.  For Trump to even suggest this is absolute madness.
Trump desperately needs friends in Congress, and the members of the Freedom Caucus could be his best friends if he would just work with them.
But instead he is deeply alienating them, and after Trump's tweet on Friday a couple members of the Freedom Caucus struck back at him.  One of them was U.S. Representative Thomas Massie…
@realDonaldTrump it's a swamp not a hot tub. We both came here to drain it. #SwampCare polls 17%. Sad!
Another member of the Freedom Caucus that fired back at Trump was U.S. Representative Justin Amash…
It didn't take long for the swamp to drain @realDonaldTrump. No shame, Mr. President. Almost everyone succumbs to the D.C. Establishment.
What in the world is Trump hoping to accomplish by feuding with these conservatives?
If Trump wants to repeal Obamacare, he should just push the same clean repeal bill that was passed by the House right near the end of Obama's time in office.
During the campaign season, Trump's desire to fight with everyone ended up working for him, but in Washington you are going to need some friends if you actually want to accomplish anything.  The members of the Freedom Caucus would have supported more of Trump's agenda than any other group in the House of Representatives, but now he has gone to war with them.
I don't know if I have the words to describe the utter foolishness of that move.
But even after threatening to go after their jobs in the next election, some members of the Freedom Caucus are still being conciliatory.  One of them is Idaho Congressman Raul Labrador…
@realDonaldTrump Freedom Caucus stood with u when others ran. Remember who your real friends are. We're trying to help u succeed.
And Freedom Caucus co-founder Jim Jordan told Fox News that his group is "trying to help the president"…
Freedom Caucus co-founder Jim Jordan, however, refused to take Trump's bait during an interview on "America's Newsroom."

"We appreciate the president," Jordan said. "We're trying to help the president, but the fact is you have to look at the legislation."

He added: "I'm not here to assign blame to anyone…what I focus on doing is doing what I told the voters we're going to do."
Instead of trying to bully his friends, Trump should try listening to them instead.
But even before it became clear that Obamacare Lite would not pass, he was threatening members of the Freedom Caucus with primary challenges if they would not vote the way that he wanted…
President Trump dared Rep. Mark Sanford to vote against the Obamacare repeal bill last week so he could put a primary challenger against the former governor in 2018, the congressman said.

According to Sanford, White House budget director Mick Mulvaney told him, "The president asked me to look you square in the eyes and to say that he hoped that you voted 'no' on this bill so he could run (a primary challenger) against you in 2018," according to The Post and Courier, which first reported the story. Mulvaney, a friend of Sanford's, was a South Carolina congressman before he joined the administration.
This is one of the signs of a weak and ineffective leader.  I have seen other "leaders" try to use their power to bully people into doing what they want done, and it rarely works.
If Trump keeps acting like this, pretty soon he is not going to have any friends left.  During the campaign season, Matt Drudge was one of Trump's most fervent supporters, but now even Drudge appears to be turning on him…
In early February, Drudge tweeted that the "Republican party should be sued for fraud. NO discussion of tax cuts now. Just lots of crazy. Back to basics, guys!" and "No Obamacare repeal, tax cuts! But Republicans vote to shut Warren? Only know how to be opposition not lead! DANGER "

One month later, Drudge was even more direct, saying "Republicans lied about wanting tax cuts. Can we get our votes back?"

Then, last Thursday, amid the struggle to rally enough Republican votes to pass an ObamaCare repeal-and-replace plan, he tweeted, "The swamp drains you," which many saw as a jab at President Trump's campaign pledge to "drain the swamp."
When a leader goes to war with his own people, it almost always results in a tragic ending.
Yes, Trump could perhaps take down a couple members of Congress in the 2018 election, but Trump will find that his entire presidency is paralyzed if he doesn't have any friends in Congress.
For example, if a spending bill in not passed by April 28th, a government shutdown will begin on April 29th.
So without the help of the Freedom Caucus, where is Trump going to get the votes that he needs to avoid a shutdown?
Is Trump going to team up with the Democrats?
I don't think so.
Without some friends in Congress, there will be no spending bill, the debt ceiling will not get raised, there will be no border wall, there will be no tax cuts, there will be no enhanced border security, there will be no trillion dollar infrastructure plan, there will be no new military spending and nothing else that Trump wants to do will get done either.
Trump is going to learn a very hard lesson that many other prominent leaders in the past have also learned.
You do not go to war with your own people.