The most important news from all over the globe....
It has become very clear that nobody else in the Republican field is going to be able to catch Mitt Romney in the race for the Republican presidential nomination.
A current adviser to Mitt Romney wants to raise the gas tax by more than 2 dollars.
Mitt Romney is still really struggling to get the evangelical vote.
Recent satellite images of an Iranian military facility show trucks and earth-moving vehicles at the site, indicating that crews were trying to clean it of radioactive traces possibly left by tests of a nuclear-weapon trigger.
Israeli Prime Minister Benjamin Netanyahu warned against allowing Iran to develop nuclear weapons in his speech to the AIPAC Convention in Washington the other night, vowing to never let Israel live under the shadow of annihilation or gamble with its security.
Right now, there are quite a few signs that intense military preparations are being made for war in the Middle East.
The Obama administration's proposed defense budget calls for military families and retirees to pay sharply more for their healthcare, while leaving unionized civilian defense workers' benefits untouched. The proposal is causing a major rift within the Pentagon, according to U.S. officials. Several congressional aides suggested the move is designed to increase the enrollment in Obamacare's state-run insurance exchanges.
Seventy-two percent of American adults and 56 percent of self-professed Democrats say that the provision in the health-care law signed by President Barack Obama that requires individuals to purchase health insurance or pay a fine is unconstitutional.
A cybersecurity bill introduced by Republican Senator John McCain could dramatically expand the domestic reach of U.S. intelligence agencies and potentially give them massive troves of emails, civil liberties advocates said.
Utah is poised to become the first state to pass a package of bills that demand the federal government relinquish claims to huge sections of public land. A proposal that advanced Wednesday demands that by 2014 the federal government cede control of nearly 30 million acres -- nearly 50 percent of the entire state.
Has the U.S. economy gotten worse under Barack Obama?
According to the Federal Reserve's latest report, total consumer borrowing reached $2.5 trillion in December of last year, nearly matching the pre-recession level.
22.8 percent of all residential properties with a mortgage were in negative equity at the end of the fourth quarter of 2011, according to a new report from CoreLogic.
When it comes to young adults (18-24) in the US, the employment rate is just barely above half, or 54%, which just happens to be the lowest in 64 years, and 7% worse than when Obama took office promising a whole lot of change 3 years ago.
Recently Bernanke told Congress that his son will graduate from medical school with about $400,000 of student loan debt.
A new study from the National Poverty Center shows just how deep in poverty some of those people are, finding that the number of U.S. households living on less than $2 per day (before government benefits) has more than doubled in the last 15 years.
Los Angeles police are warning homeowners about burglars entering homes through doggie doors.
The top government official in New York's Suffolk County said on Tuesday he would declare a fiscal emergency, a move that could roil the $3.7 trillion municipal bond market.
The European Central Bank has started to make very sizable margin calls on its credit-extensions to counterparties. This is a very bad sign.
More than a year ago, German economist Hans-Werner Sinn discovered a gigantic risk on the balance sheets of Germany's central bank. Were the euro zone to collapse, Bundesbank losses could be half a trillion euros -- more than one-and-a-half times the size of the country's annual budget.
A shocking new report says that a disorderly Greek default would cause more than a trillion euros ($1.3 US trillion) of damage to the euro zone and could leave Italy and Spain dependent on outside help to stop contagion spreading.
Ukraine's central bank, the National Bank of Ukraine (NBU), reported March 6 that its forex reserves had fallen to only $31bn, which it said is sufficient to finance imports of goods and services for only three-and-a-half months.
Japan's budget deficit is now 56 percent larger than government revenues.
There is one city in America where good paying jobs are plentiful - Williston, North Dakota.
The largest solar flare in five years is racing toward Earth, threatening to unleash a torrent of charged particles that could disrupt power grids, GPS and airplane flights.
Health officials in Calvert County and Maryland say three members of a family have died from unexplained respiratory illnesses. A fourth relative was sickened and remains hospitalized.
You can see stunning pictures of the devastation caused by the recent tornado outbreak in the central U.S. right here.
A new YouTube video is trying to rally the entire globe against one of the world's worst war criminals, Joseph Kony—leader of a horrible terrorist group, the LRA, in Uganda. Kony is responsible for mutilating innocent people and kidnapping children to be used as soldiers.
Are U.S. high school students stupider than ever?
A 13-year-old boy from Kansas City was recently a victim of a vicious racial attack in which two older black teens doused him with gasoline and set him on fire, saying, "This is what you deserve.  You get what you deserve, white boy."
Basketball players at Alamo Heights High School defeated San Antonio Edison in Texas on Saturday. In jubilation, Alamo Heights students began chanting "USA, USA!" School officials immediately stopped the chant because they believed it was disrespectful.
A legal advocacy group is confronting growing religious hostility toward veterans' memorials in the U.S., as some liberal organizations seek to tear down many public monuments.
American Life League, one of the nation's largest grassroots pro-life organizations, says Planned Parenthood really isn't in the health business these days, it's in the sex business.
The Oklahoma State Senate passed a bill Wednesday that would require abortion providers to offer their patients a chance to hear the fetal heartbeat, but the final legislation is far from what either side of the debate originally argued for.
Will "dust bowl conditions" soon return to the heartland of America?
Did you know that the ancient Hebrew name for God actually contains the message of the gospel of Jesus Christ?
A mummy was recently found in Peru that simply does not fit in with the version of history that we have all been taught.
While gay rights activists are eviscerating Kirk Cameron for calling homosexuality "unnatural," "detrimental," and "ultimately destructive to so many of the foundations of civilization," the former "Growing Pains" star has received "thousands of emails and comments" of support, Cameron's representative told ABCNews.com.
Right now 49 percent of U.S. adults say that they favor gay marriage. That's up from 30 percent in 2004. A jump of 19 points in less than a decade.
An adoptive father in western Ohio has been accused of raping three children and allowing other men to have sex with one of them, allegations that a family services official on Wednesday called "heinous."
Yet another elitist pedophile ring has been exposed with the bust of 44-year-old mother of four Anna Gristina, charged with running a prostitution ring out of a New York apartment that relied on police protection to provide wealthy clients with minors for sexual encounters.
Lastly, adult obesity rates were higher than 15% in all but three of the 190 metropolitan areas that Gallup and Healthways surveyed in 2011. McAllen-Edinburg-Mission, Texas, residents were the most likely to be obese, at 38.8%, while people living in Boulder, Colo., were the least likely, at 12.1%.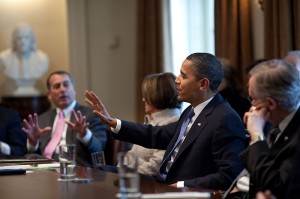 The most important news from all over the globe....
Barack Obama huddled behind closed doors at the White House with top congressional leaders Thursday, seeking a deal to raise the federal government's debt ceiling before a possible default next month.
Libyan leader Colonel Muammar Gaddafi has apparently indicated he would be willing to give up power if his son is allowed to run in any elections that follow.
The military conflict in Libya has reached a stalemate, Russian Foreign Minister Sergey Lavrov said on Thursday.
Amnesty International says Syrian security forces may have committed crimes against humanity during their military crackdown on pro-democracy protests.
Palestinian President Mahmoud Abbas may hold off on the formation of a unity government with the Islamic militant group Hamas to avoid alienating his Western allies ahead of a UN vote on statehood, a senior PLO official said Thursday.
A French boat participating in the flotilla hoping to break the naval blockade on the Gaza Strip was detained along with its crew by Greek authorities in Crete on Thursday.
The UN nuclear chief said on Wednesday that he planned to meet with Iran's foreign minister next week and that he was "quite concerned" over plans by Tehran to triple uranium production capacity.
Missouri River flooding closed another bridge on Wednesday morning, with U.S. Highway 30 between Blair, Nebraska, and Interstate 29 in Iowa shut down for 48 hours as crews install flood barriers, officials said.
After a time of relative stability, the pace of job cuts is starting to pick up again, inflation is rising but paychecks are not, the U.S. housing crisis shows no signs of ending, millions of American families are drowning in debt and all of the recent polls show that the faith of the American people in our economy is eroding.
The price of oil is almost back up to 100 dollars a barrel.
Weakening economic conditions will come together in 2013 and create a "perfect storm" of global weakness, economist Nouriel Roubini recently told CNBC.
Lehman Brothers secretly borrowed billions of dollars from the US Federal Reserve months before the investment bank filed for bankruptcy, it has emerged.
By the end of the year, it is projected that the national debt of Greece will soar to approximately 166% of GDP.
Bond yields in Europe are absolutely soaring.
Is Italy going to need a bailout soon?
Senators Rand Paul, Jim DeMint and House member Mike Lee have introduced federal legislation that would exempt gold and silver coins, issued by state governments as legal tender, from federal taxation.
Zbigniew Brzezinski, who forty years ago wrote of a highly controlled future society where the population would be subjugated by a technocratic elite, appeared on MSNBC's Morning Joe yesterday to predict that middle class unrest caused by economic disenfranchisement would soon hit America.
These days, thieves are stealing just about anything that is not nailed down - including utility poles and air conditioners.
The White House will not answer questions about when President Barack Obama first became aware of  "Operation Fast and Furious," a botched sting operation along the southern border in which U.S. officials knowingly allowed 2,000 guns to flow to Mexican criminals.
Former George W. Bush political aide Karl Rove said Wednesday that he believes Texas Republican Governor Rick Perry will run for president.
U.S. officials have warned airlines terror groups may be mulling implanting bombs under the skins of passengers, reports said Wednesday, but stressed the alert was not linked to any specific threat.
The TSA insisted on searching one woman's hair at the SeaTac airport in Washington, according to a report by King 5 News in Seattle. After going through a radiation emitting naked body scanner, a screener demanded to rifle through Laura Adiele's hair. If she didn't comply, she was told, the police would be called.
The European Union Parliament has adopted a resolution to allow the full use of body scanners in airports of the 27 European member nations.
Sony distribution centers are mandating that employees pass through body scanners when they exit the workplace according to an internal memo leaked to Infowars, but the corporation claims that the devices do not emit harmful radiation nor do they display naked images, why begs the question such scanners are not being used in airports.
The cooling system at Fukushima's Daiichi sister plant was closed earlier today after Tepco announced that "sparks were detected".
Signs of restlessness deep under a major Iceland volcano have some volcanologists on edge with concern that an eruption may be pending.
It turns out that "smart meters" are recording quite a bit of personal information about the users.
Would the FDA's scheme to outlaw nearly all nutritional supplements created after 1994 destroy millions of jobs and devastate the economy?
The percentage of obese adults increased in 16 U.S. states since last year and didn't decline in any state, a new report says.
That age-old writing method you might never have used since fourth grade will no longer be taught in Indiana schools come fall, thanks to a memo from school officials. Instead, students will be expected to become proficient in keyboard use.
Environmental factors may play a greater role in autism than previously thought, tipping the scale away from a strict focus on genetics, two new studies suggest.
A U.S. appeals court on Wednesday ordered the Obama administration to stop enforcing the ban on gay men and women serving openly in the U.S. military.
Federal officials recently cancelled deportation proceedings for an illegal immigrant from Venezuela who is involved in a homosexual relationship. The ruling comes in the wake of Attorney General Eric Holder's announcement that the administration views the Defense of Marriage Act (DOMA) as unconstitutional and will not defend it in court.
Considered a role model by his peers and named "Officer of the Year" in 2010, Boynton Beach police officer David Britto has been charged with conspiring to sell more than 500 grams of methamphetamines between June 2009 and March 2011.
A monster plant that can cause blindness just by touching its sap is spreading across New York.
A massive dust storm engulfed the city of Phoenix the other day, blotting out the sun and knocking down electricity poles.
12 million Africans are fighting for survival as the worst drought in 60 years ravages the region.
Hundreds of thousands of farm animals have died as a result of the horrible African drought.
Lastly, it turns out that a common ingredient in commercial breads is derived from human hair harvested in China.